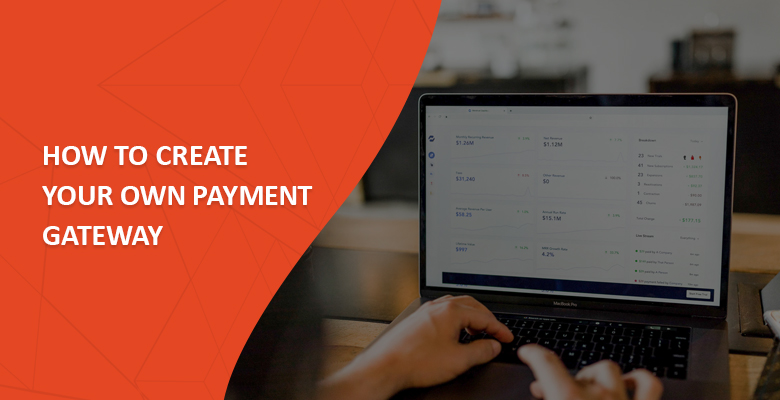 Having a payment gateway is the only way to accept payments online these days. Most companies opt for the services of a third-party payment provider to cover these needs for a number of reasons. However, if you want to create your own payment gateway, we'll walk you through the process step by step.
But before we go any further, let's establish the definition of the main terms for the matter.
What's a payment gateway?
A payment gateway is a "middleman" between a client and a merchant. This software makes online transactions possible by transmitting information from the client to the acquirer and then passing on either acceptance or decline back to the said client. But a payment gateway does more than just transmitting the information.
First of all, it verifies that the customer has the funds on his card (a digital wallet, or any other payment method) to cover the purchase. Then it ensures full protection of any sensitive data processed inside the system by the means of encryption.
Finally, a payment gateway is here to protect the merchant from any possible fraud. Major credit card brands have established fraud and chargeback threshold exceeding which is punishable. So, payment gateways typically have built-in fraud and chargeback prevention systems to help merchants avoid any payment fraud.
Difference between a payment gateway, a merchant account, and a payment service provider
A merchant account is a special account required for online trading. One can open it via a payment service provider, a payment gateway vendor, or any other financial institution. As soon as a merchant receives a merchant account, he also receives a Merchant ID required for processing your transactions.
A payment service provider is a financial institution that acts as a distributor of payments and transactions between different parties involved in the process. Besides, it often serves as a paytech vendor developing and maintaining payment processing software.
Therefore, a merchant needs a merchant account to be able to accept payments on his site. These payments are processed via a payment gateway which is developed by a payment service provider.
Advantages of developing a payment gateway
No fees.
Truth be told, processing through some payment gateways might cost you dearly. Not necessarily but it might. A high cost of onboarding along with a long list of fees can eat up a real hole in your budget. This wouldn't be a problem with your own payment gateway. So, we consider it the biggest benefit of creating one.
Features tailored to your needs.
There's no "one size fits all" payment processing solution. And merchants typically use the services of multiple payment service providers to have all their needs met. Fortunately, with your own payment gateway, you'll be able to integrate specific features to meet and exceed your customer's expectations as long as you have sufficient expertise.
White-label services.
As long as you develop a high-quality payment gateway, you can resell it to merchants both inside and outside your business industry.
Full control over data.
Own payment processing software excludes all the third parties from the picture. And this gives you full control over the transaction data. You can easily analyze it and, for instance, integrate new features based on what your customers prefer.
Better customer experience.
Having a gateway fine-tuned to the specific needs of your customers is crucial. With third-party solutions, you can't control the payment flow and customer experience. But you've got all the freedom need for it with a self-developed gateway.
Merchants must also beware of the disadvantages of their own payment gateway. So, before making a final decision and figuring out how to create your own payment gateway, let's explore the other side of the coin.
Disadvantages of developing a payment gateway
Development cost.
Developing your own payment gateway can cost you an arm and a leg. A team of paytech professionals along with a variety of integrations to add to the system is all expensive. Therefore, this solution is not for small and medium-sized businesses with tight budgets.
Maintenance cost.
A payment gateway is an ongoing project. New regulations, new payment methods integration, and basic tech maintenance will become one of your top priorities in this highly-competitive market. So, remember this when calculating the cost of self-developed software.
Security compatibility.
Each payment gateway undergoes multiple compatibility tests. Local and international payment security authorities want to ensure the safety of customers' sensitive data inside your system. This calls for numerous checks and obtaining a variety of certifications including PCI DSS.
Longer onboarding.
Choosing a ready-made third-party payment processing solution is faster. Even if your own payment gateway is among the first things your developers start working, it'll still take much time. Besides, complying with numerous government regulations can be extremely time-consuming.
All the information above is here to help you make an informed decision. Now, let's explore what blocks a payment gateway consists of and how to create your own payment gateway step by step.
Main components of a payment gateway
There are four main elements of a payment gateway a technology vendor must consider:
Integration with multiple processors.
Having multiple processors is beneficial for two reasons. First of all, you get to offer lower and therefore more competitive rates by routing each transaction to a processor with the lowest processing fee. Secondly, this way you can cater to a wider range of customers from different regions.
Connectors to multiple banks and payment methods.
Local payment methods are often underestimated by merchants. Well, they shouldn't be. Local payment methods are not only often cheaper. They also allow you to attract more international customers and expand your global presence.
An easy-to-use back office.
Having the transaction data ready for analysis all on one page is the dream. Therefore, make sure to polish your back office a little extra to ensure a smooth customer experience for your agents and direct merchants.
Security certifications.
Both security certifications and fraud and chargeback systems are crucial. With fraudsters growing more tech-savvy these days, one can't be too protective of his customers. We'll admit: complying with multiple certifications like PCI DSS will be time-consuming. But there's no way around it.
Note that your payment gateway absolutely must be scalable and adaptable for the implementation of new features. The payment industry is changing ever so fast, and your software should grow and develop with it.
However, if you consider that it's not the best time for you now to create your own payment gateway, Akurateco has a ready-made solution for you. We offer 70+ connectors to both local and international payment methods, a variety of features including smart routing and invoicing, cascading, and a payment calendar along with dedicated customer support. Drop us a line to request a Free Demo.