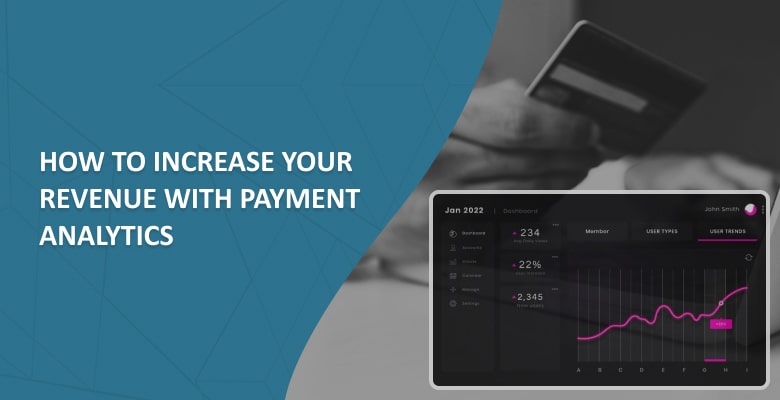 With an increasing number of payment channels, data consolidation and analytics are now of utmost importance for merchants. That's why today we'll talk about payment analytics – a process of collecting and analyzing transactional data from multiple channels to better optimize the sales flow, increase conversion rates by simplifying the payment processes, make data-driven business decisions, and align payment strategy with customer's needs and expectations.
While analytics and its importance are often talked about in business, they primarily focus on marketing efforts and barely ever touch the payments. And that hurts business more than you can tell.
In 2020 alone, people across the world spent around 4 trillion USD online. This translates into massive chunks of valuable data and insights on customer habits, trends, and potential revenue calculations that go unnoticed. Analyzing these would provide you with invaluable insights into your customers' habits and open up new ways to turn them from leads to clients.
Thus, in this article, we'll guide you through the benefits of implementing analytics into your business and how it can help you boost your business.
What does payment analytics look like?
Built-in payment analytics is a cutting-edge functionality inside a payment gateway or a payment orchestration platform that allows to capture multi-channel transaction flow inside a single system and keep track of:
– Sales trends (total amount of requests, filled out forms, applications, etc. vs. actual sales);
– Transactions geo (what countries your clients come from, and from which countries are the requests that haven't converted);
– Decline Management Engine (to help you and your customers understand decline reasons and take measures to avoid declines in the future), etc.
How can you grow your revenue with installed analytics?
1. Diversify available payment methods.
Knowing how your customers prefer to pay can help you better adjust your payment flow. Thus, for instance, by analyzing the trend in payments, you can find out that customers from a certain region prefer local payment methods over international ones. Use this insight to your advantage and add more local payment methods for this specific geo. Integrating new payment connectors requires time, so, the sooner you understand this and implement the changes, the faster you'll be able to overcome the competition. And in order to identify this need, you must have a cutting-edge payment analytics engine in place.
2. Adjust your payment flow.
Analyze how your customers pay, look into their transaction history, and check out the currencies they prefer – and act on it. Just by collecting this information, you've got a well of useful insights to put into practice.
Thus, by adjusting the list of available currencies on the checkout page, you can reduce the cart abandonment rate. By implementing one-click payments in regions where people prefer wallets and mobile payments, you can acquire new customers and motivate the existing ones to return to repeat the purchase over again. And by studying the most frequent complaints regarding payments your customers leave you, your payment team can fix the pitfalls and boost sales.
Analytics can truly do wonders when applied correctly.
3. Strengthen customer loyalty.
Building up and strengthening customer loyalty can be a complex task for any business. However, knowing your customer to an extent where you understand their shopping habits, preferences, and pains helps you speak to their heart and win their trust over and over again.
Offer them to pay the way they're used to and lure them in by a simplified checkout – and they'll be your most faithful advocates.
4. Understand who your partners are.
Knowing how well your available connectors perform can also be very helpful. You can use the transaction history to create a connector's profile. If you're using a white-label payment platform, the latter will help your customers understand how well the payment method works in their region, what currencies it best processes, and what issues most frequently arise with the payment method.
However, your customers are not the only ones benefiting from in-depth analytics of the connectors. You will do too!
Aligning your payment strategy with the connectors' analytics translates into improved smart routing and cascading decisions.
What's smart routing and cascading?
Both of these features deal with declined transactions. However, smart routing prevents them from happening by sending transactions to the channels that are most likely to let them through and cascading distributes the already declined transactions between multiple channels to protect the credit history of the merchant.
Knowing what channels get the most declines can be helpful in strategy optimization for decline prevention and distribution.
5. Eliminate unnecessary steps.
When we talk about payment analytics, we talk about both a built-in analytics engine inside the payment gateway of your choice as well as the regular web analytics your business is using. When combined, these two provide a more comprehensive understanding of your customer's profile.
Therefore, we also recommend using Google Analytics and tools like Hotjar to analyze the on-page behavior of your customers (e.g., depth of the scroll, click and tap move scrolls, tap heatmaps, etc.) Understanding what they stumble upon will help you eliminate unnecessary steps on the way from first landing on the website to finally making a purchase and make the checkout experience smoother.
Conclusion
We think these five reasons are enough to encourage you not to miss your chance to make the analytics your friend. You can boost your conversion, grow your customer list, increase the retention rate, and stop losing clients to an unoptimized payment flow. All this means more revenue for your business.
However, not every system offers advanced payment analytics. And unless you're ready to pay six figures to build your own system with detailed transaction reporting, fine-tuned to your needs, you need to find a payment service provider or a white-label payment orchestration platform that already has this feature in place.
Luckily, Akurateco is one of such systems. They offer in-depth insights into your customers' payment habits, demographics, transaction history, and more. And all this at a very reasonable price. Please fill out this form to request a Demo and get a taste of the experience and functionality they offer for free. And should you have any other questions, feel free to reach out to us. We're here to help!