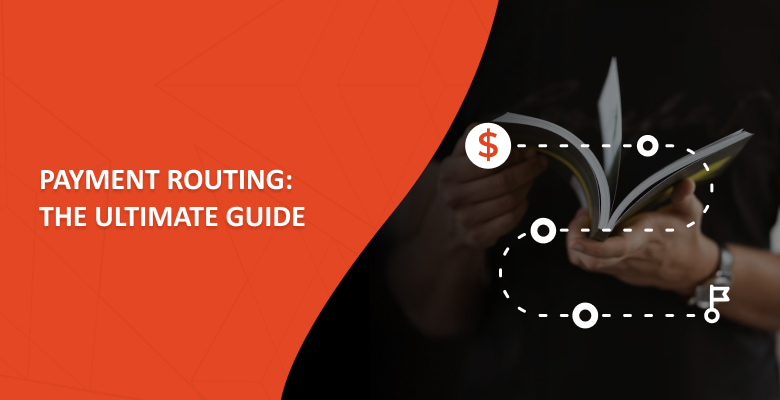 With almost all goods and services delivered online these days, there's an increasing demand for innovative payment technologies that can efficiently handle large volumes of transactions, streamline their acceptance, and provide a seamless customer experience. Payment routing is the primary tool modern payment solution providers offer for addressing this demand. Payment routing, also called intelligent or smart routing, is preconfigured to automatically optimize payment flow and improve payment conversion by mapping transactions to specified banks or payment providers. The complexity of this technology requires an in-depth analysis. 
This article will explore intelligent payment routing in detail, dive deep into its fundamentals, and analyze the opportunities it presents to payment service providers and merchants worldwide.
What is intelligent payment routing, and why is it crucial?
Intelligent payment routing is a technology that chooses the most relevant payment provider for each transaction processing, contributing to the company's revenue and transaction approval ratio. In order to explain why payment routing is an essential part of modern e-payment processing, let's examine its origins.
When a customer confirms a purchase on a website or application of a merchant that uses payment software without payment routing support, it can be directed to any payment connector (bank or payment provider) with which the merchant is integrated that processes transactions from a specific payment method, e.g. card payments. But, if there is an issue on this connector's side, all payments made at that moment will not be processed. Aside from that, each payment connector has its own limitations. Therefore, many customers experience false declines resulting from the type of transaction, its size, blocked countries list, etc., although all these transactions had the potential to succeed if another payment connector processed them. 
As a result, poor payment technologies cause merchants severe revenue and customer loss. In addition, without intelligent payment routing, merchants overpay for payment processing as they cannot choose the provider with the lowest interchange fee for each transaction.
As we assessed all the origins mentioned above, it is time to examine how intelligent payment routing technology created by modern payment software developers addresses them all.
How intelligent payment routing works
Payment routing aims to enable the user to independently and efficiently manage traffic through the system's admin panel. Initially, smart routing's preprocessing system evaluates all transaction data and compares it with databases such as Bank Identification Number (BIN), currency conversion, payment processor databases, etc. The user's role here is to set the appropriate criteria to redirect the transaction to a particular payment provider.
The user sets the routing path for different transaction types to begin the technology's operation. Right after a customer confirms payment on a merchant's website or application, multi-step smart routing technology enters the game, automatically determines which Merchant Identification Number (MID) or Acquirer is most appropriate for each transaction, and redirects the payment there based on specific criteria, such as the lowest processing fee, issuer's country, currency, transaction amount, etc.
Each payment software provider has their own payment routing technology configurations.
The diagram below shows how Akurateco Payment Routing determines the most relevant payment provider for each transaction step by step: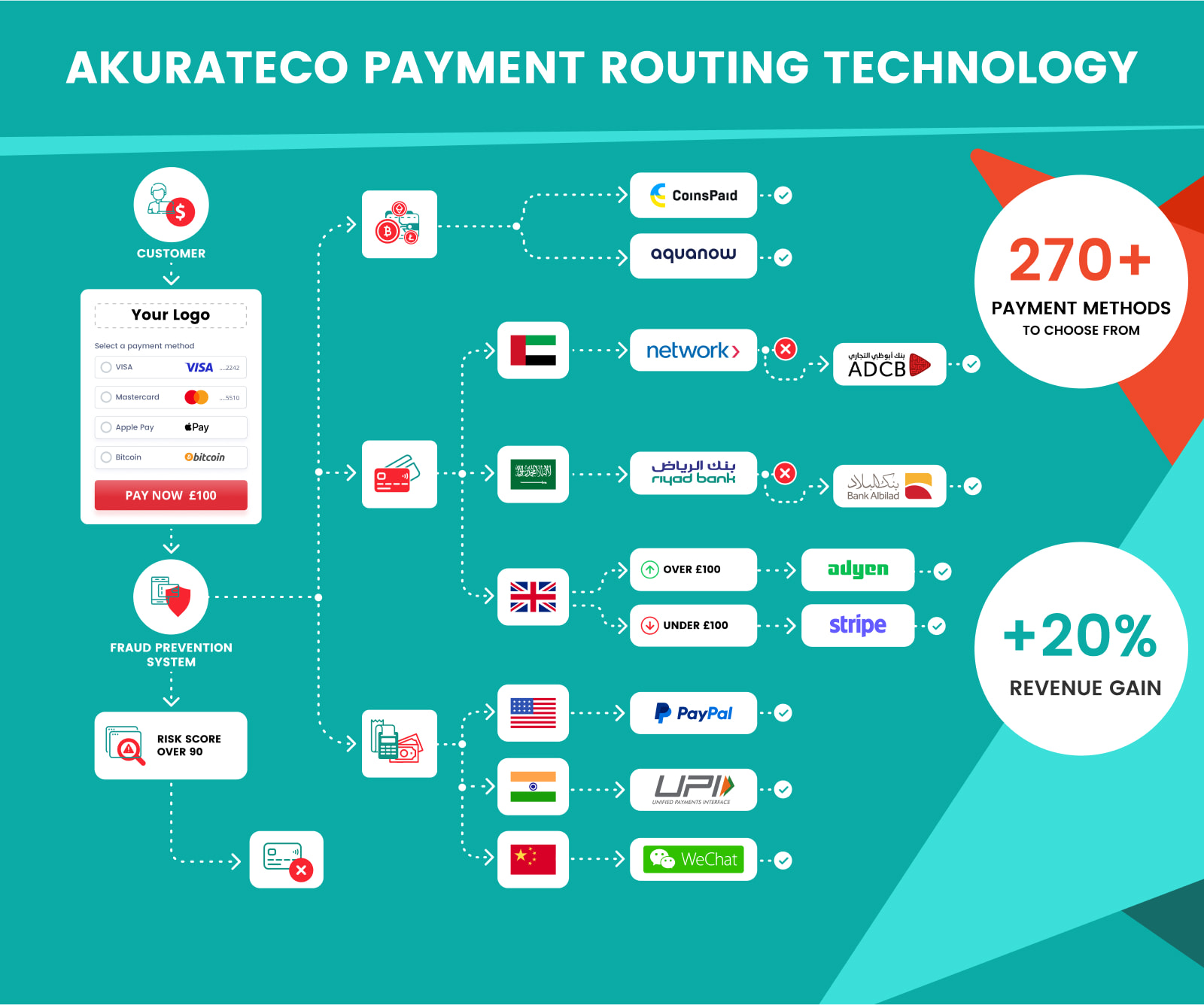 After the client confirms payment on the website or application, the fraud prevention system verifies the payment;

If the payment is verified, intelligent payment routing determines which payment providers could potentially process this transaction according to the payment method (shown in the image) or another given parameter;

Based on additional parameters, such as the geolocation of the billing address, transaction amount, or low interchange fee, payment routing identifies which payment provider will be the most suitable for this transaction, directs the transaction there, and it is done.
Intelligent payment routing: the main benefits
Now that the fundamentals of intelligent payment routing are on the table let's take a look at the main benefits of this technology:
Reduced processing cost
Payment routing reduces processing costs by sending transactions to payment providers with the lowest Interchange + and Interchange ++ fees merchants pay for transaction processing. The fee amount differs depending on many factors, such as card level, type of card used, the issuer, the issuer's country, etc. Accordingly, if the payment provider routes the transaction to a MID with a lower interchange fee, they capture more revenue.
Increased approval rate
The approval rate rises when the transaction is sent for processing to the payment provider or bank that is most likely to approve it. This is because it considers each payment connector's limitations in processing certain payment types, such as from users whose countries are blocked or from high-risk industries, and does not send transactions for processing to such providers in the first place.
Enhanced transaction flow management
Besides payment routing, some white-label payment gateway providers like Akurateco also provide prerouting. It is a technology that enables routing transactions to MIDs based on data unrelated to credit or debit cards. Prerouting is used to allow routing transactions to Alternative Payment Methods (APMs). Prerouting to APMs can be done by currency, payer's country, and other parameters. Fundamentally, prerouting is an additional technology that helps users manage transaction flows.
Akurateco Payment Routing: Taking your payments to the next level
Akurateco is a cutting-edge white-label payment gateway created by experts with 15+ years of hands-on experience in online payments that took into account all the problems faced by merchants and payment service providers in developing intelligent payment routing technology.
Akurateco payment routing operates according to these parameters:
Geolocation of billing address
To help the merchant save on processing fees, smart routing technology forwards transactions to local payment providers based on the geolocation of customers' billing addresses. For our users' convenience, the Akurateco system allows them to include and exclude specific countries regarding a particular MID or acquirer.
Payment method
A customer's payment is sent to the relevant provider group depending on whether they use a credit/debit card, Alternative Payment Methods (APMs), or cryptocurrencies. Then, based on your mappings, each transaction will be processed via the most relevant bank or payment provider within this group.
White Lists
There is an opportunity to send transactions from white-listed clients to the MID specified by the user.
Bank Identification Number (BIN)
BINs are used for identifying card type and Issuer Bank name to send transactions for processing to the payment connector that has the best success rate processing transactions from this issuing bank.
Bank Identification Number's country
Routing transactions according to BIN's country stated in BIN's databases is also possible.
Credit/Debit Card Brands
By routing transactions to payment connectors that offer lower interchange fees for certain card brands, merchants can lower their overall payment processing costs.
Currency
Currency-based intelligent payment routing automatically sends transactions for processing to the most cost-effective Acquirer or MID based on the transaction's currency. The technology considers exchange rates and fees to ensure the transaction is routed through the most efficient and cost-effective payment connector. 
Transaction amount
Since each payment processor offers different rates for different transaction amounts, you can route a transaction to the most relevant payment provider based on this parameter.
Any routing parameter can also be added to the routing rules
Akurateco provides an opportunity to set up intelligent payment routing according to any custom parameter that can be evaluated based on the collected data in the system and used to route the transaction to the specified MID or acquirer.
Also, users can combine the mentioned parameters when routing transactions. For instance, if a particular MID offers lower interchange fees for MasterCard in Slovenia, you can set this MID for routing such transactions, increasing profit.
To show you how payment routing works in action at the Akurateco system, watch this video where our Key Account Manager explains how to increase the approval rate up to 30% using this technology. Check out the video below:
To sum up
Here are some intelligent payment routing results in numbers: by leveraging payment routing technology, some of Akurateco's clients have increased their approval rate by up to 20% more transactions. On average, our clients experience a 10%-15% increase in approval rates. Generally, the rise in approval rates depends on industry type, transaction volume, regions of operation, and other factors. If you want to discover how this technology will help your business specifically, feel free to book a Free Demo with Akurateco experts. They will gladly provide an extensive analysis of your case and answer your questions!