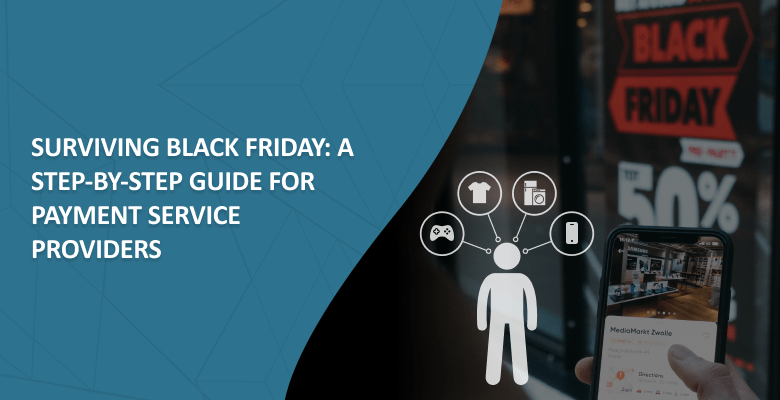 We're just a few weeks away from Black Friday, the year's biggest shopping event. While the event brings excitement for customers and merchants worldwide, it can present real challenges for payment service providers (PSPs) if they struggle to handle the surge in transactions. 
Although complications won't necessarily occur on Black Friday, the odds are higher than on regular shopping days. To prevent them, PSPs can make essential preparations beforehand, ensuring a smooth experience on the big day. 
This article gathers expert insights drawn from 15 years of hands-on experience in digital payments into the steps payment service providers can take to handle Black Friday successfully.
Step 1: Allocate technical resources
To better prepare themselves for handling increased payment volumes, payment service providers should assess their historical maximum transaction volume over their entire operational period. If your PSP leverages cloud infrastructure, it needs at least one and a half times more resources allocated for Black Friday than the previously recorded maximum transaction volume. Additionally, it is advisable to employ multiple data centers for Black Friday to ensure automatic traffic transfer to an alternative one in the event of a data center or cloud outage.
Step 2: Stock up on alternative payment channels
Before Black Friday arrives, payment service providers (PSPs) should ensure they have a reserve of alternative payment channels and verify their functionality in advance, ensuring that transactions are not lost on a critical day. While the primary transaction flow will occur through the main channels, the surge in transaction volume may lead to potential downtime for some connectors. It's essential to have alternative channels in place to redirect transactions if unforeseen circumstances occur. 
Step 3: Configure intelligent payment routing and cascading parameters
It is crucial to employ payment routing and cascading technologies to access alternative payment channels not only on Black Friday but also in day-to-day operations. Payment routing is a technology designed to automatically select the most suitable bank or payment provider for each transaction, taking into account predefined parameters. Routing aims to maximize each channel's effectiveness and significantly increases the likelihood of successful transaction processing.
Discover more about intelligent payment routing in the article below:
Payment Routing: The Ultimate Guide
Payment cascading comes into play when a bank or payment provider declines a transaction. It swiftly redirects the transaction to another provider within a single payment attempt, preventing it from being declined. Cascading is a must-have on Black Friday, as PSPs can establish a reliable backup if some payment providers encounter challenges caused by elevated transaction volumes and spikes in traffic. 
To find out more about payment cascading, check out the article below:
The Power of Cascading Payments: Boosting Your Revenue Growth
Step 4: Leverage a payment monitoring system
As the surge in purchase volume may strain the system and impact conversion rates on Black Friday, vigilant monitoring of transactions is imperative. Real-time monitoring and adjustments to the payment system are key to maintaining a high conversion rate on Black Friday.
In some cases, particularly when dealing with new types of businesses or geolocations, PSPs can even send suspicious transactions for manual verification prior to blocking them on the spot. In this way, false declines will not cause conversion losses. 
For an extensive guide on payment monitoring systems, read the article below:
Payment Monitoring System: What Is It & Why Do Businesses Need It?
Step 5: Take measures to prevent payment fraud
It is expected that fraudsters' activity will increase as transaction volumes rise. To avoid fraud spikes on Black Friday, special attention should be paid to payment fraud prevention. Antifraud measures should be meticulously planned ahead of Black Friday so that they can be employed dynamically by adding new rules, verifications, and other predefined parameters on the go.
To discover more about payment fraud prevention, check out the article below:
Payment Fraud Prevention: Enhancing Online Payment Security with Modern Technologies
PSPs commonly tighten anti-fraud rules on Black Friday in an effort to combat fraud. However, such an approach can backfire with an increased false decline rate. Instead, the most efficient approach would be to kick off Black Friday with moderate anti-fraud rules rather than highly stringent ones while monitoring transactions extensively. Ultimately, prioritizing monitoring in the initial stages proves more crucial than implementing overly strict anti-fraud rules since it allows better identification of the most effective anti-fraud measures.
One more tip is that if new geolocations or businesses are onboarded specifically for Black Friday, having a greater number of anti-fraud rules and models, both internal and external, within the system can simplify the configuration of fraud prevention technologies. To combat fraud risk, integrating third-party anti-fraud services can prove advantageous. 
Step 6: Develop a contingency plan
Given that unforeseen events can occur despite meticulous preparation, it's essential to develop a contingency plan in case downtime or issues arise on Black Friday. In such instances, payment service providers can consider several options to mitigate the consequences:
Employ backup technical and financial channels to redirect transactions.

Document disrupted transactions for post-processing in batches.

Provide additional customer support for payers using internal resources or establish connections with external resources, such as call centers.
Using Payment Gateway Extensions to Enhance PSP Functionality
On the one hand, although peak transaction volumes are associated with Black Friday, they can arise unexpectedly more often than just annually. For instance, when onboarding a new merchant with substantial transaction turnover or entering a new region, the sudden surge in transaction volumes can catch you off guard. On the other hand, if peak transaction volumes are not a daily occurrence, investing in additional payment functionality, integrations, and anti-fraud parameters may not be cost-effective for PSPs. 
In such scenarios, the use of a payment gateway extension may be a balanced solution. A payment gateway extension serves as a backup connection to a cutting-edge suite of payment technologies and integrations offered by another payment software provider. Firstly, it eliminates the need for PSPs to invest in developing all this functionality internally. Additionally, it substantially reduces the time required for a PSP to start leveraging advanced technologies and integrations. 
To explore a payment gateway extension in-depth, check out the article below:
The Power of Payment Gateway Extension for Payment Service Providers
Introducing Akurateco's Payment Gateway Extension
Akurateco is a renowned white-label software vendor that provides a payment gateway extension supporting the latest technologies and over 300 payment integrations. By integrating with Akurateco, PSPs can access a broad network encompassing 300+ banks and payment providers through an open Application Programming Interface (API) via just one integration to the platform.
The same principle applies to payment technologies. For instance, in the case of payment routing and cascading, if PSPs lack the implementation of these features in the system, they can utilize payment gateway extension technologies. They need to connect Akurateco's extension to their system to access these technologies. By leveraging multiple payment integrations on the Akurateco side, they can set up payment routing within the Akurateco system, directing a percentage of transactions there seamlessly for the customers. Gradually, they can transition all transactions to Akurateco, configuring routing and cascading within the system.
Besides payment routing and cascading, Akurateco's payment gateway extension also provides access to:
Over to you
Black Friday poses challenges and opportunities for payment service providers. By adopting proactive measures such as implementing robust payment technologies and considering the integration of payment gateway extensions, PSPs can not only navigate the transaction surge effectively but also enhance their adaptability to future challenges.
If you want to upgrade your payment system without in-house development, explore the possibilities of Akurateco's payment gateway extension firsthand by scheduling a Free Demo with our experts.