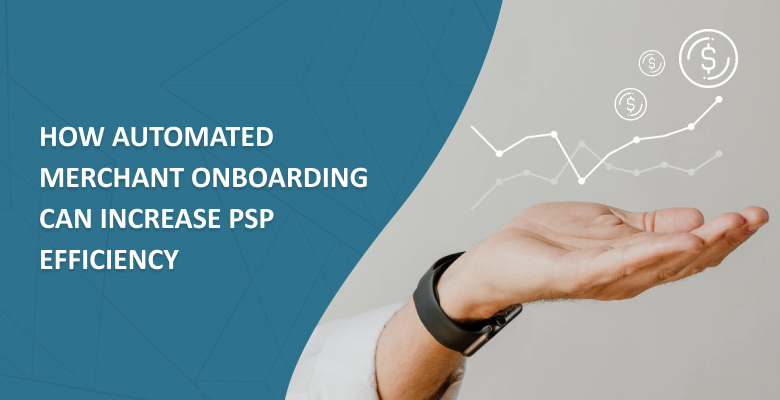 Regardless of whether you are a Payment Service Provider (PSP) that has been on the market for several years or just getting your business started, increasing the efficiency of your PSP by automating manual processes should be one of your top priorities. It will help you free up your time for crucial business processes, such as development and entering new markets, instead of investing it in inevitable yet time-consuming tasks. 
If you want to increase your PSP efficiency, merchant onboarding is a solid starting point. In this article, we will explain how merchant onboarding works, what kind of challenges manual merchant onboarding presents, and describe how automated merchant onboarding can improve the efficiency of your PSP.
How merchant onboarding works
In order to accept online payments, merchants are required to submit information about their businesses. That is why the first and most crucial step toward receiving payments through PSP is merchant onboarding. It is the process that starts with verifying the necessary documentation of a new merchant up to achieving compliance and receiving payments. 
When a new merchant begins working with a payment service provider, the provider has to walk him through every step of the onboarding process. Traditionally, a PSP will start by choosing a convenient communication channel with the merchant to receive the necessary information, then check it, reply to them, assist with compliance, provide credentials for access, instructions, etc. Surely, if you are just getting started as a payment service provider and only work with a few merchants, onboarding can be done manually. However, as your PSP develops, the number of merchants increases and a great deal of your time is consumed by these routine processes. It is at this point that challenges begin to arise. 
Manual merchant onboarding: the challenges
Time-consuming and inefficient merchant onboarding
As your business grows, you start working with multiple merchants, inevitably facing the need to onboard many of them simultaneously. To achieve this, you need a separate department of employees responsible for merchant onboarding, which is costly and inefficient in the long run. If you do have a department in charge of merchant onboarding, the majority of their work can be automated, freeing their time for more strategic tasks. However, if you already lack employee resources, merchant onboarding will take too long, which will be inconvenient for your clients. 
Merchant onboarding is the most important part of the merchant's journey. It is the moment they encounter the quality of your service for the first time, therefore, providing them with the best customer experience here is crucial. But, if merchant onboarding is done manually, it will likely take a long time for you to approve them, which will cause dissatisfaction. Also, there are many factors to consider besides the amount of time you will need to allocate, such as different time zones, work hours, etc.
Information is scattered across different channels
When you perform merchant onboarding manually, frequently all the necessary files, documents, and messages are sent via different messengers. Therefore, the information is scattered and must be collected and verified in parts, which takes a lot of employee time. But even after they have gathered all the necessary information in one place, they will need to ask for additional data and manually enter it into the payment gateway's system. In the process of communicating with one merchant, this does not seem difficult. However, when you are in touch with many of them at once it takes a critical amount of time.
Increasing PSP efficiency with automated merchant onboarding
The main goal of automated merchant onboarding is to simplify your work and save you countless hours that can be used for more significant tasks. For instance, if now you have a department of 3 employees in charge of merchant onboarding, after its automation, one employee will be able to handle it. However, how does it actually work?
Cutting-edge payment providers that provide white-label payment gateways offer advanced technologies for transaction processing. One of them is automated merchant onboarding. Among the companies that offer automated merchant onboarding, each one has its own functionality for it. For instance, Akurateco's White-label Payment Gateway greatly automates the merchant's integration into the system, and, as a result:
The merchant handles onboarding on his own
The main difference from manual onboarding is that the merchant handles the process by himself without the need for your employees' assistance. To accomplish this, we provide him with step-by-step instructions in a special section of the admin panel. Thus, merchants can start the registration process directly from your website without waiting for a representative to respond. It is extremely helpful when you have different time zones or high workloads and cannot answer the merchant right away. Additionally, automated onboarding allows merchants to get acquainted with Akurateco's payment orchestration platform features. At that time, they will be able to look through the technical documentation and conduct a test transaction via the admin panel.
PSP saves time on routine work processes 
With automated merchant onboarding, the employees' tasks will mainly be to monitor the merchant's registration process, approve and correct the entered information, answer documentation-related questions, and help him go live. Thus, while the merchant fills in all the necessary information and gets acquainted with the system, your employees can focus on other tasks. In addition, they will receive notifications regarding the merchant's progress. It is a win-win deal for both parties.
Moreover, in addition to efficient time allocation, the provider receives an advanced and up-to-date system with multiple functional features. For instance, Akurateco offers a flexible mechanism for customizing the merchant's application form according to his country of incorporation. Also, merchant application forms can be created, changed, and customized according to PSP's needs. 
All the necessary information is unified in one place
One of the key benefits of automated merchant onboarding is that it eliminates the need for additional communication channels since the entire process can be managed on our platform. You will no longer need to spend hours looking for the missing piece of information since it will be organized conveniently. In addition, merchant onboarding eliminates the need for additional Customer Relationship Management (CRM) software since all the necessary information will be kept in the Merchant Card in the system.
To help you better understand how merchant onboarding works on our platform, we have prepared a video where our payment expert demonstrates how to simplify and automate manual processes with it, saving a great deal of your time. Click here to watch the video: 
In outline
The days of manual merchant onboarding are long gone, as it is an inefficient process that takes a lot of employees' time from being spent on more profitable tasks. That is why payment providers that want to increase the efficiency of their PSP choose automated merchant onboarding. Its goal is to simplify work processes for PSPs and save their time for developing business while onboarding merchants smoothly and efficiently. If you want to automate the onboarding of your merchants, our experts will be happy to help. Feel free to register for a Free Demo and get all your questions answered.