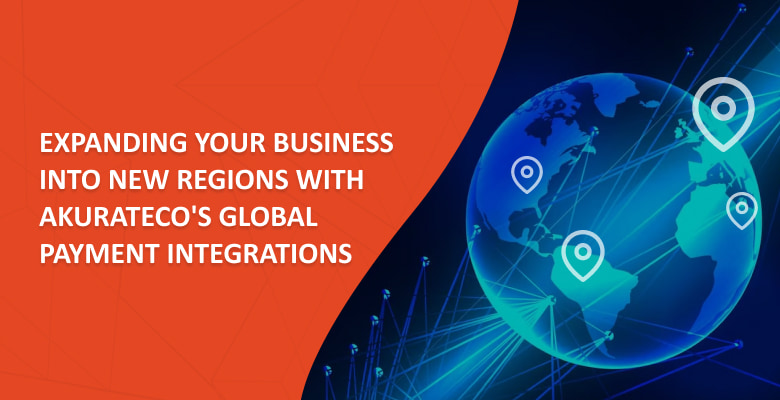 Doesn't every business owner dream of expanding their presence worldwide? Yet, the lack of reliable payment partners on international markets often stands in the way of global expansion. 
Although it frequently deters merchants from venturing into new markets, one integration with an advanced payment orchestrator can resolve this problem for good.
In this article, we'll explore what stands in the way of business expansion, unveil how payment orchestration efficiently addresses these obstacles, and provide an overview of the state-of-the-art Akurateco Payments Orchestration Platform.
Roadblocks in Business Expansion
When a business operates within a specific customer geography with all internal processes configured to meet its particular preferences, it can encounter significant challenges with payment acceptance when seeking to enter new markets. Here are the main ones:
Few integrated banks and payment methods
After a business decides to enter new markets, its first and most common payment problem is the inability to accept payments for goods and services there. It occurs because payment methods already integrated into their current system are well-suited to the regions they operated in before but not popular or relevant to the new regions they are entering.
For instance, let's take the case of a business operating within Europe, primarily focusing on the Netherlands and Belgium. It has integrated iDeal, Cartes Bancaires, and Bancontact payment methods in addition to traditional credit and debit cards, owing to their popularity in these regions. Now, if this business seeks to expand its services to the US and Brazilian markets, the pre-established payment methods are no longer relevant to the target audience overseas. Instead, it needs to use new payment methods like Boleto, PIX, and Elavon, which can handle local cards like American Express and Elo to meet the payment preferences of customers in these new markets.
If you want to learn more about popular global and local payment methods, check them out in our comprehensive overview below:
Ultimately, the most convenient and hassle-free way for businesses to expand their services to new regions is by partnering with a payment solution provider that offers multiple integrations and can develop new ones at your request. 
Outdated payment software
The trick is that the main obstacle on your way to going global can be a payment solution provider. For you to enter new markets quickly, your payment software provider's system should be able to offer the necessary resources for expansion. However, if the provider offers a limited integrations list, doesn't support integrations via an open Application Programming Interface (API), cannot facilitate custom integrations upon request, or merely provides credit/debit card payment alternatives, their software fails to align with modern business requirements.
Adherence to local regulations and standards
Another major challenge to address is mandatory local regulations adherence. Different regions often have unique payment regulations and standards, which require businesses to adapt their payment methods and processing to comply with local laws. For instance, the Reserve Bank of India (RBI) has specific guidelines for digital payment services, including the need for customer consent, transaction limits, and data security measures. For this reason, your payment software provider must comply with local regulations in countries where you plan on expanding.
With all these roadblocks combined, many merchants find themselves in a position where their payment acceptance opportunities are limited, causing their inability to expand their global reach and making them lose potential revenue. Yet, aligned with a cutting-edge payment orchestrator, they can seamlessly embark on a worldwide journey.
Going Global with Ease: Leveraging a Payments Orchestration Platform
A payments orchestration platform is brandable software that offers multiple integrated payment methods available via an open API, which means they are already integrated into the platform and available at a client's request. Simply put, it serves as a central hub that links businesses with a variety of payment providers, simplifying the payment process and facilitating smooth cross-border transactions.
Furthermore, a payment orchestration platform provides advanced technologies for conversion rate increase and saving on processing costs. They include:
.. and many more.
Among the cutting-edge payment orchestrators on the market is the Akurateco Payments Orchestration Platform, developed by experts with over 15 years of experience in online payments. Working for businesses worldwide, Akurateco has established its reputation on the market and developed a solid approach that helps businesses expand globally.
How Akurateco Payment Orchestration Platform Drives Expansion for Businesses
Dedicated to offering a comprehensive set of solutions, we cater to businesses through a range of comprehensive services to help them achieve their global business goals. These include:
Over 300 integrated banks and payment methods
As of now, Akurateco offers 300+ integrated payment connectors worldwide, constantly expanding its list. The platform provides traditional and alternative payment methods via an open API, including cryptocurrencies, mobile payments, e-wallets, and Buy Now Pay Later (BNPL). Among our recent integrations are AstroPay, Tap Payments, MyFatoorah, and Skrill. 
Partnership with global and local payment providers
Partnering with both global and local payment providers allows Akurateco clients to offer a broader array of payment options to customers from different regions. Additionally, partnership with local payment providers reduces processing costs, diminishing the need for currency conversion and saving costs for merchants and customers.
Integration development on request 
Akurateco can also develop custom integrations tailored to your needs. By requesting an integration, you can ensure that your payment system aligns precisely with the unique requirements of your business.
Compliance with regulations
As a global payment orchestration platform, Akurateco complies with the necessary regulations within the platform's operating regions, including Europe, the US, Asia Pacific, and the Middle East and North Africa (MENA) region. Also, our system is Payment Card Industry Data Security Standards (PCI DSS) Level 1 certified.
Intelligent payment routing
Our platform offers not only an extensive array of integrated connectors but also incorporates intelligent payment routing technology that automatically directs each transaction to the bank or payment provider most likely to process it successfully. This feature empowers businesses to customize distinct transaction pathways in every region, reducing processing costs and increasing payment conversion rates.  
To wrap it up
Venturing into new markets is a goal that every business yearns to achieve. Yet, safeguarding your business's future starts with making strategic choices today. Collaborating with a forward-thinking payment orchestrator such as Akurateco is a step in the right direction. Don't miss out—secure your spot for a Free Demo now and explore our wide range of integrations and advanced technologies firsthand. Your business's global success story awaits!