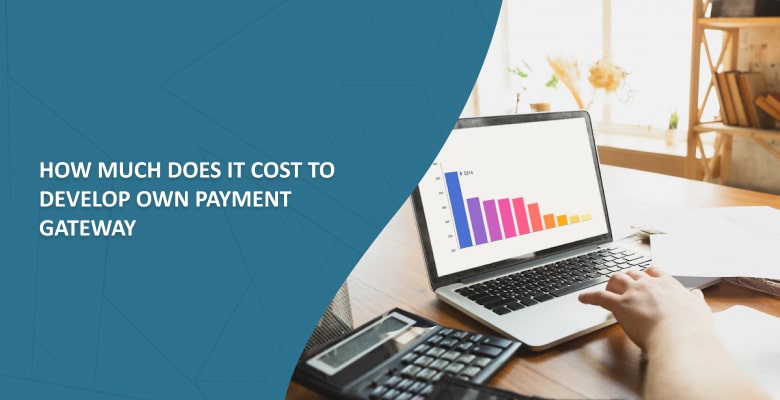 It may not have occurred to you, but the payment gateway is already integral to our daily routine. Each time you order goods in an online store or pay a bill through your smartphone, the payment gateway is in charge. A payment gateway or payment aggregator is the equivalent of a Point of Sale (POS) terminal, but for online payments, and without it, a credit card would be nothing more than a piece of plastic. The payment aggregator's infrastructure will continue to be vital as demand for it grows. Building your own payment gateway, however, is quite costly. But, before we get started, let's define some key terms.
Payment gateway: a quick guide
A payment gateway is an essential infrastructure that authorizes the payment process. Most commonly, it is used for e-commerce transactions. The payment aggregator's function is to act as a middleman between the customer and the merchant. In the process of payment, it is the aggregator who receives and sends the money from the customer straight to the merchant, checking the customer's payment details with the card network, the issuing bank, and the acquiring bank beforehand.
Data security is another essential feature of a payment gateway. Since the aggregator works with sensitive data, it has to be protected from falling into the wrong hands. For this reason, encryption is crucial. When the aggregator receives the payment information, it immediately encrypts it so that only the aggregator can read it. So, even if an unauthorized person or service accesses it, he still will not be able to understand it.
Additionally, payment gateways have to comply with international security standards that are called Payment Card Industry Data Security Standards (PCI DSS). These security standards are constantly being updated to ensure that they remain effective, so the payment aggregator must keep up to date as well. 
The essentials of operating a payment gateway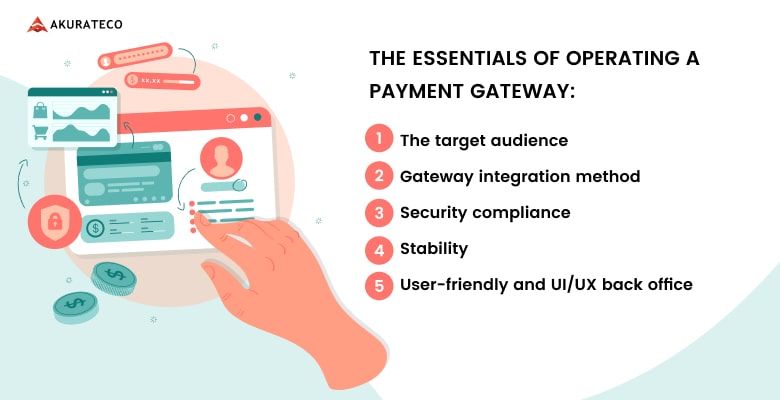 The first concern you have when setting up a payment aggregator is the fundamentals of its operation. The primary goal of a payment aggregator is to ensure that the transaction is processed as quickly as possible while keeping the data and money secure, which requires a lot of effort and resources on the gateway's owner's part. There are such aspects an owner should keep in mind:
Getting things straight at a stage of developing the payment aggregator will save you unnecessary expenses since it will influence the features you have to develop. You need to figure out whether you intend to work with high-risk or low-risk merchants, as well as decide on the countries and currencies the aggregator will support since all these aspects affect the costs of transaction processing. 
Gateway integration method
It is crucial to not only employ a team of professional developers but also to describe your goals to them clearly. First, you need to decide on the type of gateway integration. There are such gateway integration methods: Server-to-Server, Hosted Payment Page, integration via an iFrame, Software Development Kit (SDK), and plugins. The suitable integration option should be determined based on the merchant's business and their requirements. However, keep in mind that S2S is only available for PCI DSS-certified merchants
Every merchant aims to find a secure payment aggregator, but providing merchants with the security of payments takes lots of effort. For starters, it is a PCI DSS compliance achievement. There are four PCI levels. The Payment Service Providers (PSPs) require Level 1 or Level 2 PCI compliance, while the merchant should be compliant with Level 3 or Level 4. The difference in levels is based on their annual transaction amount. In addition to PCI, there are also cybersecurity standards, tokenization, and encryption that the gateway must comply with to secure customers' sensitive data.
Keeping in mind all the above issues, you should also make sure that the gateway is fast and error-free, this means that you need to have at least a couple of data centers and also cloud backup, just in case. Furthermore, the gateway should be constantly updated so that it keeps up with the latest requirements. In their search for a payment gateway, the merchants tend to choose the one that meets the evolving needs of online payment methods.
User-friendly and UI/UX back office 
If the customer cannot easily understand and navigate through the payment page, there is a great chance that he will abandon the chart never completing the purchase. That is why having a user-friendly interface is essential for a successful payment gateway, as well as a simple, clear, and clean UI/UX back office.
How much does it cost to develop a payment gateway?
In calculating the upfront costs of the payment gateway, you should consider the gateway development, its maintenance, PCI certification, cutting-edge technology, optional: licensing, regulations, partnerships, and some other expenses. We estimate a minimum viable product (MVP) for a payment gateway to cost between $150.000 and $250.000. The more features a payment gateway has, the higher the development costs will be.
Time is an additional resource you must possess in order to build a payment aggregator. Building a payment aggregator from scratch can take you from six months to one year. 
A further component of the gateway's development cost, and ultimately its success, is your crew. A major part of the payment aggregator's development budget is spent on salaries for the development team. Finally, the cost of hiring developers depends on factors like the technical experience of the employee, your choice of the technology stack, and the model of engagement for your project.
Overall, it is beneficial in the long run to develop a payment gateway if you have enough time and money at your disposal because you will save on subscriptions and increase revenue, along with the ability to customize the infrastructure to meet your business requirements. However, there is an alternative that allows you to set up your own payment gateway quickly without having to start from scratch.
Payment Gateway Development: Alternatives
White-label Payment Gateway
White-label payment solutions require zero resources to develop a payment aggregator because it is already built for you. Clients with limited time or resources may find this alternative appealing. Still, cutting-edge white-label solutions, such as Akurateco, will also suit the needs of those simply looking for a ready-to-use payment gateway. Among other benefits of a white-label payment gateway is a shorter time-to-market, the partnership with multiple acquirers, security compliance, and simplified customization of payment pages. However, if your requirements are very complex, you might want to consider other options.
Payment Gateway Source Code
Customizable options are almost limitless with this white-label setup option, because the client buys the source code of an existing gateway, thereby acquiring the right to modify virtually every aspect of it. The source code would consume much more resources from the client than a white-label payment aggregator, though. But even in this case, the required resources are not comparable to the ones, needed to build a gateway from zero. 
Integration with the Payment Processor
If you are planning to work with only one acquirer, which means only one processor, it is possible to integrate directly with its platform, if at some point you need more, it will again be a new integration. The more payment providers you need, the more integrations you will have to make, and if your appetite is high, you will need to have a bid tech team for that. This option is straightforward, but it limits your development capacities and growth possibilities.
Over to you
Payment aggregators are gaining momentum, so it is a perfect time to get in the FinTech game and build your payment gateway. If there is enough time, resources, and a professional developer team at your disposal, you will be able to handle the gateway development on your own. As a result, you will be avoiding costly service fees and increasing revenue in the long term. But, for those wishing to have a turn-key gateway solution, there are other alternatives: source code purchase, or a ready-to-use white-label payment gateway like Akurateco.
If you want to know whether the white-label gateway suits your needs, sign up for a free tour to see what the system has to offer. Fill out the form for a free Demo. We're ready to help!