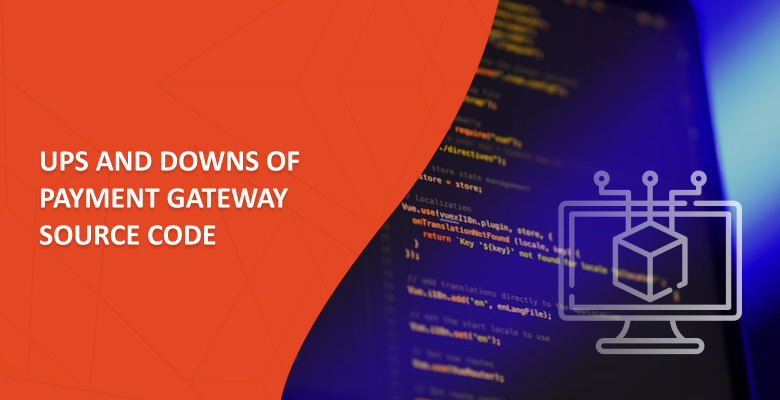 The electronic payments industry does not stand still even for a moment. In the last year alone, the number of new popular payment methods, including cryptocurrencies, QR-payments, One-click payments, etc., increased many times. So did the demand for advanced technological features, security compliance standards, anti-fraud algorithms, and high-quality support. So, if you are seriously considering becoming a payment gateway provider, you will need to master the online payment industry to perfection before launching your payment solution. However, there is another option to get your own cutting-edge payment software without developing it from scratch – payment gateway source code purchase. 
In this article, we will outline what payment gateway source code purchase is, and list its main benefits and drawbacks.
What is payment gateway source code purchase?
A payment gateway is a technology that facilitates online payment processing by receiving customers' payment data once payments have been confirmed, sending them through verification, and securely transferring funds to merchants' accounts. Each payment gateway has its own source code written by a team of experienced developers. When you buy the source code of a payment gateway of your choice to become its rightful owner, it is called a payment gateway source code purchase.
In a nutshell, it is a premium option for those who would like to become the owners of a payment gateway without developing it from scratch. In comparison, if you plan to develop your own payment gateway on your own, you will need a budget of $150.000-$500.000 and higher depending on your requirements, 6-12 months of development, and a highly skilled development team. But, if you choose a source code purchase instead, you will receive a ready-made payment gateway with top-notch payment technologies created by industry experts at a much lower cost. 
Payment gateway source code: Benefits
Being the fanciest option for payment gateway purchase, source code undoubtedly has a large number of advantages. Let's examine them one by one:
There is no development investment
As we already mentioned, creating your own payment gateway will be a costly affair. Key components of software development that are the most expensive include back-end and front-end development, architecture, UI/UX design, quality assurance, and so on. Alternatively, purchasing payment gateway source code gives you ready-to-use software that requires only further maintenance and support, saving you plenty of costs and speeding up your time-to-market.
Independence from the software vendor 
When you rent software from a vendor on a Software-as-a-Service or On-premises basis, you are completely dependent on the vendor's maintenance, upgrades, and pricing. Even though you can choose your own vendor among other companies according to your needs, you cannot be sure they will want to implement the features or add the payment integrations you require, as that is solely according to their will. Simply put, when you rent software from any provider, the biggest problem is unpredictability: you do not know when they will want to raise prices or change the terms of service. Furthermore, if their system fails or if they refuse to adapt their functionality to your needs, you will not be able to influence it. Your only defense against situations like this resides in your own source code.
Total control over the code
If you rent a payment gateway as SaaS, you will have fewer opportunities to differentiate yourself from competitors that rent the same software, as marketing is the only method available to you. Having full control over the source code allows you to make changes big and small. With the source code, you will be able to add features and upgrade its technologies as you wish, receiving the opportunity to stand out through technology. With a team of professional developers updating your software, you will be able to offer your customers unique products and services, such as cascading for 3DS MIDs, AI-powered anti-fraud, cryptocurrency support, automated merchant onboarding, etc. 
Although it may seem that the source code is needed only by those payment providers who plan significant upgrades and modifications to it, in reality, it is primarily a contribution to your convenience. During the course of your operation, small details arise such as the need to add a field or revise a screen or investigate an issue that appears to be not a bug, but does not work as expected. 
Legal ownership
When you buy the source code of a payment gateway, you become its rightful owner. It means that you are not dependent on any software development company, and do not have to worry about unforeseen situations that will force you to find a similar payment solution as quickly as possible or lose customers and your reputation. In addition, as the owner of the source code, you will have the right to make any changes to it.
Fully customizable design
The ability to fully customize the design of your system is what will give you the opportunity to stand out from other payment gateway providers. While your competitors will offer their clients one or several standard designs of payment pages, you can provide each merchant with an individual design, tailored to their preferences. Everything on the page can be customized down to the tiniest details, including buttons and icons, to attract potential customers who want to stand out.
Source code is adaptable in the long run
If you plan to rent software from a payment provider now, are you sure that, in a few years, it will still meet the requirements of time and your growing business? There are no guarantees. That is why source code purchase offers a significant advantage over renting software. In the long run, its adaptability allows you to feel confident about the future, because whatever your business needs are in a year or ten, you will be able to tailor the source code to meet them. 
Payment gateway source code: Drawbacks
Even with such undeniable advantages, source code has some significant drawbacks that can hinder its purchase. The main downsides are:
High cost
Since you are buying ready-made premium payment software developed by industry professionals, you cannot expect it to be cheap. A payment gateway source code provider sets the price based on the term of development, financial investments, availability of advanced payment technologies, and other parameters. Yet, even considering the above factors it will still be much cheaper than developing your own software from scratch. However, if you have not set such a budget for the purchase of software, you might want to consider such options as a white-label payment gateway. 
Software maintenance 
After purchasing the source code, you will be solely responsible for maintaining, upgrading, supporting, and updating the software. First and foremost, it requires significant financial investments on a long-term basis. Secondly, since software maintenance is no less imperative than software development, it is essential to have an entire IT department that includes a skilled team of developers, QA testers, engineers, etc. Unless you plan to spend more than $50,000 on salaries per month for the team, or you do not want to handle software maintenance yourself, purchasing source code may not be beneficial to you.
Over to you
As with every payment solution, payment gateway source code has its own benefits and drawbacks. Fundamentally, this is a premium fully customizable payment solution that keeps up with current market demand and is scalable in the long run. The two major disadvantages of source code are its price and the need for software maintenance. Indeed, that can really get in the way of beginners just starting their PSP business. However, if you are aiming for your own advanced out-of-the-box payment solution, these so-called drawbacks will become benefits for you, as they ensure complete customization of the software to the needs of your business.
Only a few high-end payment gateway providers offer similar solutions on the market, and Akurateco is among them. Payment gateway source code by Akurateco is top-notch software with cutting-edge technologies and multiple integrated payment connectors, created by industry experts with 15+ years of experience in online payments. If you want to know more about source code purchase and see a Free Demo of the system, feel free to fill out the form. We will be happy to answer all your questions and show you around!