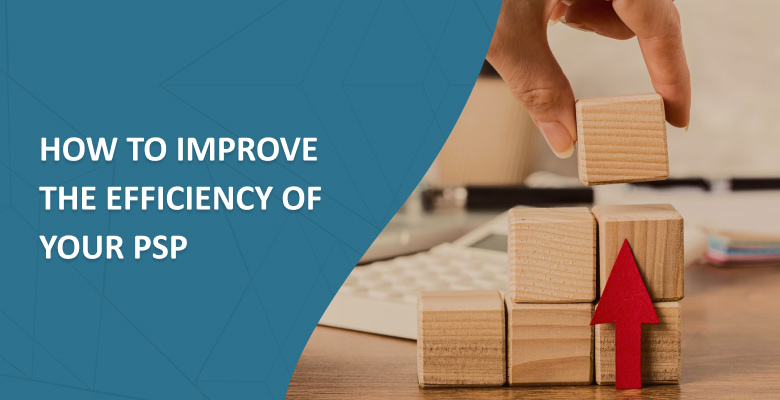 One of the most pressing issues identified by payment providers (PSPs) is improving the efficiency of their work processes and business performance. To address them, PSPs spend a lot of time trying to solve problems on their own by trial and error. However, it takes much time, and in most cases, comes to naught. To help you address these challenges efficiently, in this article, we will identify the areas in your PSP business that may require further optimization and outline 6 proven methods to improve the efficiency of your PSP.
Examining potential improvements for your PSP business
The days when payment service providers only handled payment processing are long gone. Operating as a PSP now, you need to focus your work not only on processing transactions quickly, seamlessly, and securely, but also on ensuring that your customers have premium support, an excellent customer experience, and value-added services tailored to their needs. Management of all these processes can be challenging even for giant payment providers, let alone smaller PSP companies. Although it may seem that there is always a shortage of employees, finances, and time, in order to achieve the desired result, it is not always necessary to increase the number of resources. In most cases, it is enough to increase the efficiency of those available to you. Could this be your case? Let's take a closer look. Here are a few areas where modern technology can improve the efficiency of your PSP business:
Routine processes are handled manually
Manually handled routine processes are one of the biggest time-wasters for payment service providers because they take the time and energy of your employees that could be used for more effective tasks. Manual reconciliation, merchant onboarding, billing, and invoicing are just a few of the processes that can be partially or fully automated.
In a constantly changing environment of electronic payments, it is essential for you to keep up with the demand for top-notch technology. Otherwise, your clients will encounter multiple declines, chargebacks, and a poor buyer experience. Fortunately, there are modern payment technologies that can provide you with a solution to this problem.
As online payments have become an integral part of everyday life, payment gateways are now in high demand and will become even more popular in the future. But, if your system lacks scalability as integrated banks, local and global payment providers, or the technical capabilities of your software, the process of developing your business and entering new markets will be slowed down.
Once you combine all these areas, it becomes evident that inefficient management of some processes can hinder your business' growth. Yet, the efficiency of the processes can be greatly improved without additional development and with minimal investment.
6 best ways to improve the efficiency of your PSP
Automated merchant onboarding
Onboarding is the first step for merchants toward processing transactions via your payment gateway. That is why it is imperative for your future partnership to provide them with the highest quality service from the beginning. However, if you are doing it manually, your merchant may experience delays in feedback due to different time zones or the high workload of your employees. In addition, if you perform onboarding manually, you will have to maintain constant contact with a merchant. It includes receiving and verifying information about his business, providing instructions and credentials for access, and helping him go live. That is what automated merchant onboarding can assist you with.
If onboarding is automated, the merchant can do it on his own at a convenient time by following the instructions step by step. In addition, while merchants are getting acquainted with the system, employees in charge of onboarding can save time for more strategic business tasks since most of their work will be automated.
Check out our latest article for an in-depth look at automated merchant onboarding:
How Automated Merchant Onboarding Can Increase PSP Efficiency
Smart routing
The number of online businesses adopting a multi-acquirer approach is increasing every year as they move away from a single-acquirer model. The reason for this is the demand of buyers to make payments in a convenient and fast manner. That is why, for their convenience and the convenience of their customers, merchants choose PSP as an alternative to working with banks directly. However, offering multiple integrated acquirers alone is no longer sufficient to satisfy the demand of merchants. What they really seek is to increase the transaction approval ratio and reduce processing costs due to advanced payment technologies such as smart routing.
Smart routing is a technology that automatically chooses the most suitable integrated bank or payment provider for each transaction. The choice is based on given parameters, such as the lowest processing fee, country, currency, ticket size, first deposit or regular client, and so on. Smart routing is an essential technology that routes transactions to channels most likely to approve them to avoid declines, increase the transaction approval ratio, add to a positive customer experience, and save on processing costs.
Cascading
If your merchant's customers experience multiple declines, cascading is another valuable technology for you to consider. Usually, when the customer enters his payment data and confirms the purchase and the bank declines the transaction for some reason, the payment does not complete. The customer then receives a decline message, which negatively affects his user experience, in order to proceed with the payment, he is forced to spend time re-entering his payment details, which may result in another decline. But, if you use a cascading mechanism, the chances of the transaction being completed increase significantly.
Cascading technology works in a way that when the transaction is declined by one bank or payment provider, it is automatically cascaded to another one and, if necessary, to as many as you have connected to achieve a successful result within one payment attempt. As a result, the payment goes through, and customers have a seamless payment experience, motivating them to return to your merchants again and again. 
Smart billing
Have you ever struggled with manually calculating and creating invoices for every single customer, spending countless hours on them? Or maybe you lacked flexibility in the fee structure? Then smart billing is here for you. This technology can do wonders for optimizing your business.
Smart billing automates the traditional time-consuming invoicing process and offers you enough flexibility in fee structure. Simply put, smart billing calculates invoices for PSP to determine the amount of commission to withhold and how much PSP should pay each merchant. In the case of an Agency Model, the technology calculates the amount of commission that the Gateway provider (with an Agency Model) should receive. Also, smart billing allows PSPs to calculate how much they have to pay to referral clients. Sounds like a real necessity for every payment service provider, doesn't it?
To know more about smart billing, read the article below:
Smart Billing: Automated fee structure explained
Risk management
Nowadays, fraudulent transactions are a common scourge for payment service providers worldwide. As online payments become more widespread and technologically advanced, so do scammers. Dealing with fraudsters can be a costly and unpleasant experience, which is why merchants prefer payment providers with advanced anti-fraud systems when choosing their payment solution. Due to this, PSPs spend a lot of money and effort on achieving compliance and developing fraud-detecting algorithms. However, there is a way to leverage cutting-edge technology and protect your clients' data at the highest level without investing thousands in it.
White-label payment gateway providers offer risk management technologies. These technologies vary among gateway providers. For instance, Akurateco offers advanced fraud prevention systems and external risk-scoring providers, as well as full PCI DSS compliance and 3D Secure support. In addition, they allow PSPs to set up anti-fraud plans for a single merchant, a merchant group, or a MID to make sure that each channel has sufficient protection against the expected risk level. Overall, risk management aims to eliminate the need to configure and update anti-fraud filters and achieve PCI DSS compliance yourself, saving you a great deal of time and money.
Sophisticated admin panel
Efficient data management is another integral component of a high-performing PSP. If you want to always stay in control of your multichannel transaction flow and make data-driven business decisions to expand into new markets, a sophisticated admin panel is exactly what you need. 
Although it may seem like a minor part of processing transactions and working with clients, it is another tool that will help you work more efficiently and improve your results. With a sophisticated admin panel, you will be in full control over transaction data from various payment channels and monitor it in real-time, stay on top of logs with advanced search, set up callbacks, and so on.
How to improve the efficiency of your PSP with a white-label payment platform
As noted above, automation of manual routine work processes is a must-have for new-generation PSPs. Surely, you can implement all these technologies in your own payment solution, but it will take a considerable amount of time and money before all of them will go live. For those who would like to access these technologies quickly without investing in their development, white-label payment gateways are available. 
A white-label payment gateway is payment software created and managed by an experienced team of developers that you can rent on a subscription basis and use for payment processing for your clients under your brand. In this way, you will have access to all the cutting-edge features, including smart routing, cascading, merchant onboarding, etc., and multiple integrated banks and payment providers worldwide with no investment in software development and maintenance. 
If you want to know what motivates PSP to switch from their own payment solutions to white-label ones and what the transition looks like for them, read the article about the transfer that Akurateco performed for one of its clients:
The Big Migration: Switching to a White-label Payment Platform
In conclusion
In the early stages of your PSP business, you can comfortably handle most of the processes on your own. However, as your business grows and the number of customers increases, it becomes more and more difficult to manually manage all the work processes quickly and efficiently while also scaling your PSP and keeping the software up-to-date. That is why it is essential to have advanced optimization tools that will increase the efficiency of your PSP. Among them are merchant onboarding, smart billing, routing, cascading, risk management, and a sophisticated admin panel.
To use them in your business, you can develop and integrate them into the software, or turn to a white-label payment provider and start utilizing top-notch technologies with zero development and maintenance costs. If you have questions about white-label payment processing, feel free to book a Free Demo – Akurateco's representatives will gladly get in touch with you and show you how it works from the inside.