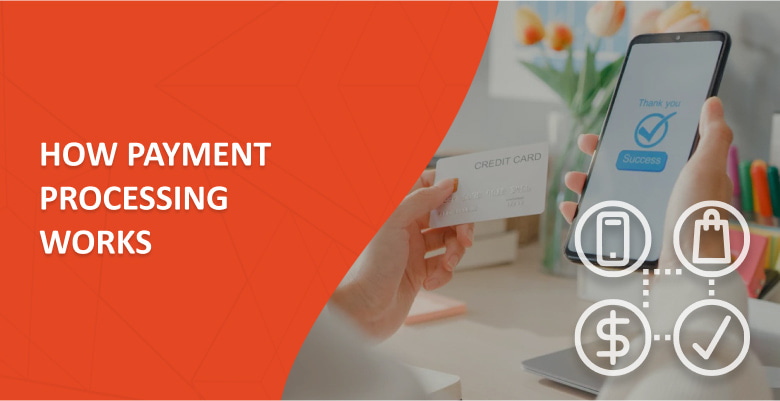 If you are reading this article right now, you likely belong to the majority of people whose activities were shifted online in recent years, including payments. Indeed, online payments have become an integral part of modern life, as did payment processing.
Payment processing aims to enable businesses to accept payments from customers, allowing them to complete their transactions quickly and securely. In this article, we will explore what payment processing is, how it works, and how to choose a reliable payment processor to suit your needs. 
What is payment processing?
We refer to payment processing when we pay in an e-commerce store, purchase movie tickets on a website, and receive money for goods or services sold online. Payment processing is the process of collecting, verifying, and transmitting payment information from customers in order for the merchant to receive a payment. It involves verifying customer details, such as billing addresses, account numbers, and credit card data, to process transactions securely.
There are four main parties involved in payment processing. Let's take a look at them in detail.
To accept payments through a website, merchants need a payment processor to connect them to banks and payment providers worldwide. It is a company with a license to manage transactions on behalf of a merchant and a customer, which covers the logistics of the payment process.
A payment gateway is software that receives customers' payment data, encrypts it, and transfers it to the credit card network, customers' and merchants' banks. However, there is more to it than that. A payment gateway can provide a wide range of technologies that add to business development, enhance payments security, increase merchants' conversion ratio and reduce processing costs.
If you want to learn more about how a payment gateway works, read the following article:
A customer's bank is an issuing bank that authorizes or denies payment based on various parameters, such as the amount of money in the account or fraudulent activities.
We call an acquiring bank a merchant's bank because it accepts transactions on behalf of a merchant. It approves or declines a transaction based on the information received from a customer's bank and card network.
How Payment Processing Works
Payment processing usually takes a couple of seconds after the customer makes a payment to the merchant. In fact, payment processing is a complex procedure that involves many parties. To get into more detail, we have to understand the basics first. 
Payment processing consists of the following steps:
When the customer is ready to place an order, he chooses between the suggested payment methods and enters his payment information into a merchant's checkout page or mobile app.

The merchant sends transaction data to the payment processor through a payment gateway.

The gateway submits the transaction to the card network, which transfers it to the customer's bank for authorization.  

The customer's bank approves or declines the payment based on the number of parameters and sends back either an approval or a decline to the merchant's bank through the payment gateway.

If the payment is authorized, the customer's bank receives the transaction details and charges a defined sum from the customer's account.

A merchant's bank receives the relevant amount from the customer's bank after deducting the interchange fee.

Finally, the merchant's bank sends the money to the merchant's account.
Now, you know what payment processing looks like on the inside. But, this is only the tip of the iceberg because each of the payment players takes many steps to fulfill their role. However, you do not need to integrate with all the payment players on your own if you want to start accepting payments. Instead, you need to choose a payment processor that will do it for you. 
How to choose a payment processor
When it comes to choosing a payment processor, several factors need to be taken into consideration. First, you need to make sure the processor offers advanced up-to-date technology and customer support. It is the most significant part since the technology of your payment processor will determine your development capacity in the future. If the payment technology is outdated, it will not allow you to expand to new markets, connect to multiple acquirers and eliminate the risks of fraud and chargebacks. 
However, there are many payment processors with cutting-edge technology on the market. One of them is Netherlands-based payment provider Akurateco. It is a brandable, white-label solution that allows users to own their own ready-to-use PCI DSS payment gateway with multi-acquirer integrations to payment service providers worldwide.
Additionally, you may want to consider if they offer various payment methods: traditional, such as credit and debit cards, and alternative payment methods, including Buy Now Pay Later, QR payments, etc. 
It is also imperative to examine the processor's fees and any additional charges. Usually, they offer a Software-as-a-Service model of purchase and charge a setup fee and monthly fees, although some payment processors charge yearly. Also, you need to look out for hidden fees that may be imposed on you by the processor.
Finally, make sure that its security measures meet industry standards in terms of data encryption. In order for a merchant to be able to accept payments, a payment processor has to be PCI DSS compliant. In addition, this payment gateway should use advanced anti-fraud filters to avoid as many fraudulent transactions and chargebacks as possible.
Conclusion
In conclusion, payment processing is a complex but vital part of daily life. It involves the transfer of funds from one party to another and requires careful consideration of the various components involved. Payment processors play an invaluable role in facilitating these transactions securely and efficiently. Being aware of how payment processing works can help businesses manage payments successfully and help customers feel secure when making purchases online.