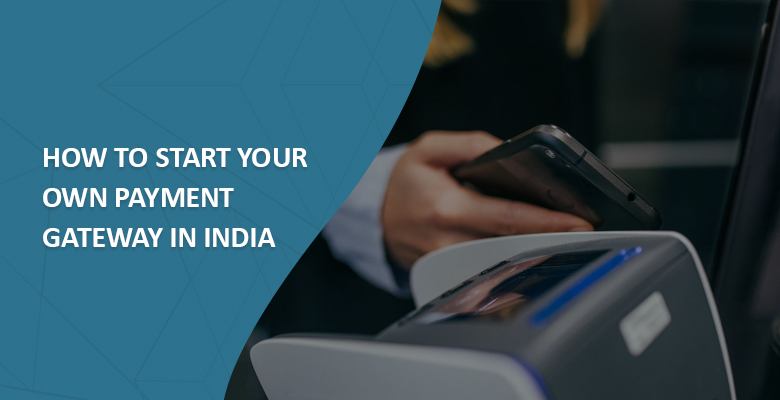 With the ongoing popularity of online shopping, the demand for a payment gateway grows stronger than ever. Thus, new startups and entrepreneurs consider an opportunity to develop their own payment solutions. So, if you're searching for information on how to start your own payment gateway in India, we've got all the answers for you!
But before we dive right into the creation process and legal issues, let's establish the basic vocabulary.
What is a payment gateway?
A payment gateway is a piece of software that serves as an intermediary between a merchant's website and a bank. It's one of the core components of the overall transaction processing flow which on a great scale goes as follows:
A client places an order on the merchant's website and is then redirected to the payment page to enter his valid credit card information;
The payment gateway encrypts and processes data and transfers it to the issuing bank;
The latter validates the payment and sends a verification code to the payment system to approve or decline a transaction;
The payment system transfers the response to the payment gateway;
In case of an approved transaction, the funds will be withdrawn from the client's and transferred to the merchant's account.
Now that you understand what role a payment gateway plays in the transaction processing flow, we'll explain how to start your own payment gateway in India in greater detail.
You might also like How to create your own payment gateway
How to start your own payment gateway in India
Today, entrepreneurs have two main ways to start a payment processing business: to create their own gateway or use a white-label solution of a third-party provider like Akurateco. They both come with a set of pros, cons, and complications. So, let's see what they are.
How to develop your own payment gateway in India
Legal requirements.

Any entrepreneur willing to process confidential payment information must comply with Payment and Settlement Systems Regulations, 2008, as well as Board for Regulation and Supervision of Payment and Settlements System Regulations, 2008. These two documents establish all the core requirements and rules for the payment service providers.It's highly recommended to seek legal assistance when laying the foundation for a payment business in India.

Authorization.

Once you study and research all the pitfalls and legal guidelines, file an application for authorization from the Reserve Bank of India. It is a starting point for the creation of a payment gateway. However, before getting their authorization, you also need to look into…

Obtaining a license.

To obtain a payment gateway license in India, the business owner must meet all of the requirements below as well as provide all the documents:
– Full compliance with PCI DSS;
– Sufficient number of employees/directors on board (min. 2);
– A detailed business strategy for the first several years in the business;
– Service Tax Registration Number;
– System Flow and Code Testing Report provided by a company specializing in software certification;
– A valid proof of the company's address.
A merchant that meets all the requirements and has sufficient business documentation in place is likely to receive RBI approval and a payment gateway license. However, note that the Reserve Bank of India will analyze the need for the service, the credit history of the company, described technical specifications of the system in question, as well as numerous terms and conditions provided by the applicant. The list of requirements is truly endless, thus, we recommend hiring a legal advisor to accompany and guide you along the way.
Once the merchant obtains the license, he can start developing the system.
Source: Unsplash.com
Characteristics of a good payment gateway
A fast and secure payment system must:
– Meet top-of-the-industry encryption standards.
Processing and channeling confidential payment information calls for implementing the highest security standards. Their implementation requires both financial and technical resources.
– Have an intuitive design.
The system must have a clean intuitive design allowing any user regardless of his familiarity with the system to easily utilize its features from day one.
– Offer a variety of payment connectors.
In a world of cross-border e-commerce, having just one payment method is inexcusable. Therefore, to meet the expectations of your potential merchants, integrate their preferred payment methods into the system.
– Ensure smooth and fast transaction flow.
To maximize the user checkout experience and grow customer loyalty, you need to apply all the cutting-edge technology that allows for speedy transaction processing. After all, time is money.
– Facilitate advanced analytics engine.
It's crucial for merchants to be able to easily see and analyze their transaction data in order to make data-driven business decisions. And it's your job as a payment service provider to offer them access to such a tool in your system.
– Allow fees customization.
For merchants with a flexible fee structure, this feature is what dictates whether they will utilize yours or somebody else's system.
– Offer a variety of integration options.
Allow your customer to choose the integration options that best meet their expectations.
Besides, don't forget that developing your own payment gateway as well as maintaining it requires a team of payment and technology experts. The cost of hiring such a team for your company varies on the location and level of expertise they offer. But it won't be cheap, for sure.
You might also like Best payment processing software for online business
Cons of own payment gateway
Cost.
The cost of development, maintenance, hiring a team of legal, technology, and payment experts add up to an amount that's often too much to bear for smaller companies. Do your research and see whether utilizing a white-label payment platform similar to Akurateco makes more sense to you at this point.
A number of payment connectors.
Integrating a large number of payment connectors is time and resource-consuming. Thus, you won't be able to offer all the required connectors to banks and payment methods from day one. And as a result, you might lose potential clients.
Fierce competition.
The competition in the niche is already fierce. Thus, entering the market with a brand-new product might not be the smartest move unless your system is dramatically different from what is already available in the niche.
All in all, above we mentioned all the technical and legal aspects of creating your own payment gateway from scratch. Besides, we listed the disadvantages of such a decision so you can make an informed decision.
Now that you know how to start your own payment gateway in India, it's time we introduced you to an alternative. The alternative we'll talk about it is a much simpler and cost-effective solution for merchants regardless of their business industry. In the next section, we'll explain how you can utilize a ready-made white-label payment platform to become a payment service provider with no development and maintenance cost required.
What's a white-label payment platform?
A white-label payment platform is a fully brandable payment system that allows aligning the design of both the checkout page and the admin panel of the payment gateway to match corporate style guidelines (hence the word "white label").
With a white-label payment solution like Akurateco, the development, frequent upgrades, and maintenance of the system are 100% the responsibility of the third-party technology vendor.
You might also like Best White-Label Payment Gateway Software in 2021
Pros of a white-label payment platform
No development and maintenance costs.

Both development and maintenance of the system are expensive. And with them out of the picture, your business gets to save a ton of money. This way, you can channel these resources into other core business areas to stimulate constant growth and expansion.

Level of expertise.

Behind every cutting-edge payment platform is a team of seasoned professionals. Hiring an in-house team or even outsourcing this part to a third party can cost you an arm and a leg. Luckily, with a white-label system, you receive all the expertise you need for a fast and smooth transaction flow without having to dedicate extra budget to the salary fund.

Dedicated customer support.

Any question you have or any issue you face will all be taken good (and fast!) care of. Typically, technology vendors like Akurateco have a team of tech support ready to answer your questions day or night.

A number of payment integrations.

With Akurateco, you get 100+ of payment connectors with a single integration. Integrating this number of connectors will take new market players months of hard work and intensive networking.

Speed of integration of new connectors.

White-label payment systems on top of their vast hands-on experience with the technical integration process have strong business relations with a variety of banks and payment methods providers. Therefore, even the integration of new payment methods that aren't yet available will be faster than that of a new provider.

Cutting-edge features.

Finally, systems like Akurateco with 16+ years in the payment industry offer top-of-the-industry features. Those include a payment calendar, smart invoicing, and a fee constructor. These top-notch features are often unheard of even among the market leaders.
These are but a few of the advantages of the white-label payment systems. These systems are agile, secure, and, often, more affordable.
Conclusion
If you're new to the white-label payment system idea but are considering to start a payment gateway business, Akurateco's here to help. You can request a free Demo of the system to see what we offer before making a final decision. We've got 16+ years of hands-on experience in the paytech market and cater to businesses across multiple niches and industries. We'll be happy to assist!