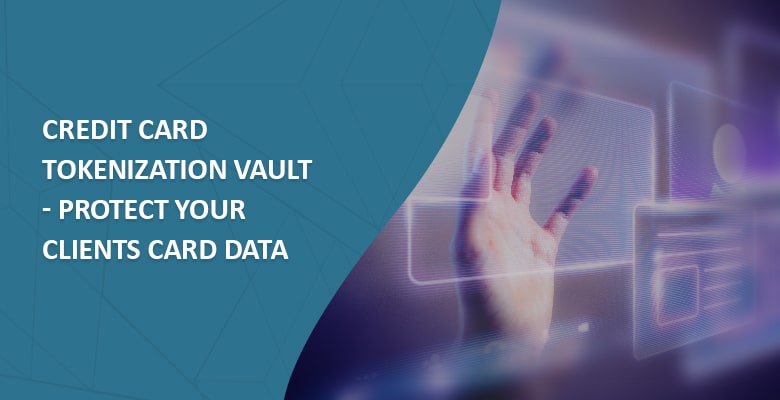 In a world where scammers and hackers are getting more and more tech-savvy by the day, protecting your client's data is of utmost importance. A report showed that a cost of a data breach, on average, reaches a whopping $3.9M, while in the financial sector, this cost exceeds $5.8M. It's a costly affair, you see. And to protect your clients' card data, you should look into the credit card tokenization vault.
What is it? And is it a good fit for your company? That's what we'll discuss in the article.
But first, let's see what a token is.
What's a token?
A token is a series of randomly-generated numbers used to replace a customer's credit card data. It's used by different payment service providers to protect sensitive information from fraudsters. Since this set of randomly-generated numbers and symbols can be decrypted by the owner of the system, it's much safer to store information in tokens. If you as a customer when paying with a card ever received an error saying "card not tokenized" and wondered "what does card not tokenized mean," know that this is a sign that the service provider processing your payment doesn't offer tokenization. And therefore, they put you as a customer at risk of a sensitive data breach.
Now let's explore what other options you might have when it comes to storing sensitive credit card data.
How to store sensitive credit card information
There're three ways to store your clients' data. To better understand which one of them fits the needs (and the budget) of your business, read through our short definition of what each one of them means:
You can build your own payment system.

Building your own payment system can be a perfect idea. This way, you'll get to fine-tune it to the specific needs of your customers or merchants if you're willing to sell it as a white-label provider. You can control and fully oversee its performance, connectors, features, and anything in between. However, this solution comes at a price. And a steep one, too.
As we've explored this matter in our article before, the development of a secure data management system with a tokenized payment vault can cost you between 105.000 USD and 420.000 USD. This means that a solution of this size is only fitting to a large corporation with an extensive budget and solid volumes of the payment flow.

You can outsource it to an external vault provider.

You can easily hire a credit card vault provider to take care of the tokenization of credit cards for you. This can be a much more cost-effective solution compared to building your own system. It might also be a good move for an improvement on the uptime. However, adding different PSPs may be a problem. It will overcomplicate the system so the vault providers don't recommend doing it.

You can store it via a white-label payment service provider.

This can arguably become the easiest way to go. All you need to do is find a PCI DSS compliant payment service provider and have them encrypt and protect your data. It is your go-to solution if you work with a multichannel payment flow, need a secure payment system, and can benefit from a customizable payment orchestration platform. However, you should consider the fact that this is a long-term decision. Switching white-label providers can be a tedious task, tiresome if not impossible. Therefore, you need to do your research on this otherwise perfect solution before you commit.
What's a credit card vault?
A credit card vault is a complex database used to store sensitive data and protect it using the latest encryption technology. Financial service providers keep the data stored in such a vault at all times retrieving it only when a cardholder is making a purchase or performs any other card-related actions.
Five advantages of credit card vault service
Saving costs.

In case you opt for a cloud-based credit card vault, you'll be saving a substantial amount of money compared to on-premise alternatives. All thanks to the fact that encryption software and PCI DSS compliance of the vault will be the responsibility of the external provider.

Increased security.

Vaults are frequently assessed and closely monitored to avoid any possible data breaches. Therefore, storing credit cards data there will guarantee a higher level of security than any other option available.

Less PCI DSS compliance drama.

Storing cardholder data outside your organization can be a lifesaver. Not only do you get all the perks of the fully PCI compliant credit card storage delivered to you by professionals but you also get a chance to reduce the PCI compliance scope on your part.

Digitalized experience.

With the whole Fintech world shifting towards digitalization, credit card vaults are taking on a challenge to help PSPs to be ahead of the competition by implementing a seamless, secure and fast token-based data storage. Enjoy the speed and digital transformation of your payment experience without ever putting your security in danger.

Simplified data storage.

Data stored across numerous data management systems, even if encrypted, isn't as safe as it is in a single credit card vault. Not only does this approach allow us to always stay on top of things by storing sensitive information all in one place but it also helps you keep peace of mind.
Now, these all might sound great. And they are, we have to admit. But they're not for everyone.
So, who is credit card vault best suited for?
Who should use a credit card vault?
Merchants with returning customers.

Having credit card data stored in tokens makes repeating payments a breeze. Therefore, if this is your business model, you'll benefit from the vault and grow your sales altogether.

Merchants with subscription-based model.

Having all the necessary information stored ina vault means faster and smoother payment flow for your customers. They don't need to fill out the form over and over again = they're less likely to abandon the cart and more likely to stick with you as a loyal customer and brand advocate.

Merchant from industries often targeted by fraudsters and scammers.

With vaults being safer than other solutions, you should consider this approach if you're in a high-risk industry. External providers can take preemptive measures to keep your data safe without you breaking a sweat about PCI DSS compliance, security standards, etc.
Over to you
Security is always hot and trendy. And now more than ever with hackers getting more confident than ever. Not to give fraud a chance consider either a third-party credit card vault solution or a white-label payment orchestration platform like Akurateco with a top-notch tokenization feature they offer to their customers. Apart from increased security and simplified payment flow, they also offer a variety of other features for merchants to explore and benefit from including but not limited to smart routing, cascading, smart billing, and payment calendar.
If you want to get a free tour around the system to see what it has to offer, don't hesitate to book a free Demo through this form. We're here to help!