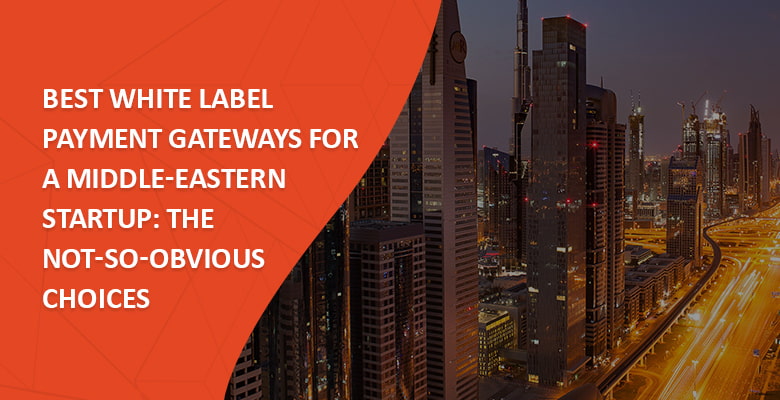 The Middle East has seen significant e-commerce growth in the last couple of years becoming a breeding ground for the emergence of new startups. Thanks to a high internet penetration level, this region is now a gold mine for online businesses. On average, 67.2% of the MENA population are active internet users compared to 56.5% of the global average. As a response, entrepreneurs actively invest in a growing number of new online-based businesses.
However, these startups don't just cater to buyers within their region no matter how rewarding this move is. They take a step further and sell to international consumers across the globe. Such a diverse audience calls for expert hand-tuned payment processing. And in this article, we'll explain how to choose the best white-label payment provider and what features to look for in the best-fitting platform.
You might also like White-Label Payments: How Do They Work?
Why choose a white-label payment provider vs. a regular PSP?
It strengthens loyalty.

A white-label payment gateway allows payment service providers (PSPs) to fully brand the system and legally sell it as their own. Thus, when a customer clicks "Buy now" on your website, the system doesn't transfer him to a different page. Instead, it keeps him on a payment page that has the logo, colors, and other company style attributes. It strengthens his loyalty and, as a result…

It grows your conversion rate.

Visitors that are sure they can trust you are most likely to buy once and then return over and over again. Therefore, a white-label payment solution can boost your revenue and skyrocket your business.

It boosts your reputation.

Offering your customers solid payment technology and an uninterrupted checkout experience will give you a chance to establish a reputation as an expert. And considering that you save hundreds of thousands of dollars on this technology by getting a license from someone else instead of developing it yourself from scratch – it's a 100% win-win.

It opens up new markets for your business.

Typically, such payment systems come with a wide range of available payment integrations. These give you a chance to penetrate new markets and sell your goods and services to new audiences. And even if the required integration isn't available yet, WL providers have vast experience in adding new methods. So, implementing your request won't take much time for them.
Understanding the benefits of a WL solution is important. It gives you a better sense of perspective and helps you stay focused on what's really important.
You might also like Best White-Label Payment Gateway Software in 2021
What to look for in a payment provider catering to businesses in the Middle East?
The system deployed on the client's servers.

In many countries in the MENA region, it is mandatory that the payment gateway is deployed on the client's servers. Classic white-label solutions are usually deployed on those owned and maintained by the technology vendor. And while it is much cheaper and easier for the client, it doesn't comply with the regulations of the region.
Therefore, when searching for a system, check the requirements in your jurisdiction and, if necessary, opt for a provider with an "on-premise" integration available.

A variety of payment methods that fit your audience's needs.

The most popular payment methods in the region are cash, credit and debit cards (specifically Visa and Mastercard), PayPal, CashU, Apple Pay, and bank transfers.
Less popular yet still in demand are BenefitPay, QPay, and mada.
Preferably choose a provider that already has these payment options integrated. If not, discuss the possibility and conditions of their integration before committing.

Available pay link functionality.

Among popular expectations of online buyers in the MENA region is an available payment link feature. This functionality allows you to generate a payment link inside the system and send it directly to the customer. Then, the client can easily pay for goods and services in one click. This feature is vital to small and medium businesses, as they can accept payments without even having a website.

Localization.

System localization is of great importance, too. Even though English is the official language of business here, Arabic still dominates. Thus, to enter the market, it's better to find a system with an available localization to cater better services to your clients.

An "Authorize and Capture" transaction.

This one is also crucial to the overall success of your processing business.
The mechanics behind it is simple:
This transaction aims to make sure that the customer has sufficient funds on his account to complete the transaction. If so, then the bank will place a hold on the amount in question for the authorization purposes. Finally, the money will be transferred to one's merchant account.
And we know, it's a jungle out there but we're here to help you pick the best payment solution provider. We've done our research and are ready to introduce you to what we believe are the best solutions for a startup from the MENA region.
You might also like Best Payment Processing Software for Online Business
The best white-label payment gateways for a startup in the Middle East
Akurateco.


We might be biased but Akurateco checks all the boxes on the list of essentials for a payment software providers in the MENA region.On top of that, the company has been one of the pioneers of the payment industry, and so, understands the biggest pains of PSPs around the world and offers fine-tuned solutions for them.
Among benefits the company offers are:
– Smart routing – To increase one'stransaction approval ratio;
– Smart Invoicing – To simplify invoice management and help PSPs charge more with flexible fee structures;
-Tokenization – To ensure fast and safe one-click payments;
– 150+ payment methods;
– Zero development cost and fast onboarding;
– On-premise integration type;
– Fully-customizable admin panel.

The company also offers a free demo so that the potential customers can see what the platform has to offer before getting their feet wet.

MPGS.


Mastercard needs no introduction. They've been paving the road for payment technology and innovation for nearly 50 years. Supporting numerous industries, Mastercard Payment Gateway Services offer fast, safe, and cutting-edge technologies to meet the needs of the most demanding merchants.
Among the benefits of the system are:
– 170+ currencies supported;
– 200+ acquiring solutions available;
– Tokenization – To simplify the payment without compromising their quality;
– Anti-fraud solutions – To protect customer's sensitive data;
– Simplified guest checkout to reduce cart abandonment;
– Popular card brand support as well as alternative payment methods;
– PCI DSS compliance.

MPGS allows its clients to get access to multiple payment methods, cut operational costs, and fully protect their transaction flow with a single integration.

ACI Worldwide.


ACI Worldwide in another great white-label payments option. They offer a solution that allows their clients easily build and scale payment gateways with both popular and alternative payment methods.
Other great features they offer include:
– Risk management – To protect transactions in the high-risk industries from scams and fraud;
– Multiple integration options – ACI Worldwide offers on-premise, cloud, and SaaS integrations to all its clients;
– Unified payments consolidated in a single innovative platform;
– Cheaper compliance with top industry security standards;
– 100+ integrations available;
– Expert customer support.

The company aims to drive its clients' businesses and change the landscape of payments with their latest developments.
Conclusion
The Middle East region is a breeding ground for startups right now. And as so, they need to find a perfect white-label payment solution. In this article, we've listed the most important features and aspects to look for in a best-fitting provider as well as shared a list of those we find the most suitable for the job. Use these notes for future references and stay tuned for more useful content coming your way!