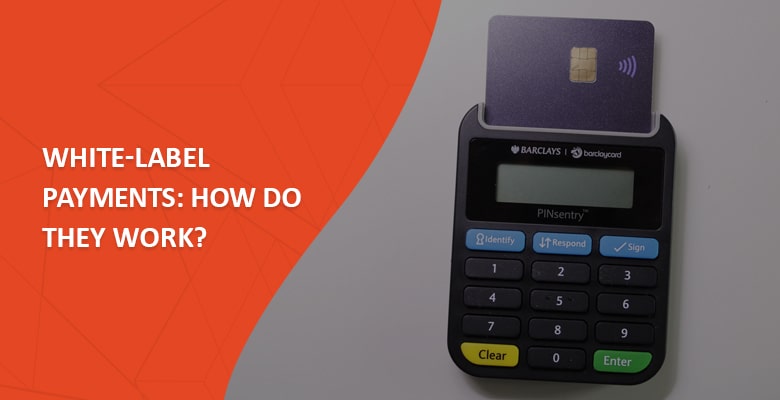 With a growing share of white-label payments in the payment processing market, it's time we all took a closer look at the notion of white-label payments. And it's exactly what we will explore in today's article!
What are white-label payments?
The term "white label" means legally reselling the product or software created or developed by a third party. In other words, a company integrating a white-label payment system can legally place its branding on the software and resell the system as its own without having to spend money on its development and maintenance.
As the number of available white-label payment service providers grows by leaps and bounds, it might be challenging to find a trustworthy one. Akurateco is one of those few reliable choices.
And today, we'll look into the principle behind white-label payments as well as their key benefits. Along the way, we'll use Akurateco as an example of such software for illustrative purposes.
You might also like Difference between traditional and white-label payment processing?
How do white-label payments work?
A white-label payment system is a fully brandable payment software. One of its main functions is to facilitate a diverse transaction flow from different payment channels.
With customers becoming more and more demanding, the software shapes up to meet the needs and, often, exceed the expectations of the end customer. Therefore, white-label payment software often has an extensive list of features helping to create a smooth and uninterrupted payment flow.
The functionality of a reliable white-label payment software
Among such features are:
Smart routing.
The feature allows you to create a specific route for each transaction ensuring the highest possible transaction approval ratio. Smart routing not only helps you get more transactions accepted. It also creates a smooth checkout experience for the end customer and improves your brand's reputation.
You can predefine the rules for transaction routing based on the transaction's IP, BIN, currency, payment amount, etc. On top of that, one can also predefine routing through certain payment methods for certain regions.
Cascading.
Cascading, at its core, is a distribution of declined transactions between multiple payment channels. With Akurateco, this feature will also help you keep track of decline reasons, translate them into user-friendly terms, and analyze them with a cutting-edge built-in analytics engine.
This functionality is most useful to high-risk payment service providers as well as those willing to improve their credit reputation.
Smart invoicing.
This feature is a real gem. In short, it allows you to choose what to charge each customer for. In other words, you can set up hand-picked payment triggers and actions for every customer creating a flexible fee structure. This feature allows you to grow your revenue by charging customers for more payment actions. Besides, with it, you can cut the processing costs by automating the fees based on sales volumes, business type, etc. Finally, it simplifies transaction management saving the payment experts hours in transaction monitoring.You might also like Smart Invoicing technology explained
Risk management.
Reliable white-label payment solutions like Akurateco come with built-in risk management functionality. At its core, it's a feature that aims to detect and prevent potentially fraudulent transactions. Thus, Akurateco utilizes three anti-fraud modules to achieve that goal.
PCI DSS certification.
One can argue that this is still part of the risk management feature. Compliance with top-of-the-industry security standards is both money and time-consuming. The red tape behind obtaining the certification is unbelievable. That is why having a team of experts do it for you is a real game-changer. If you're looking for a white-label payment solution with a PCI DSS certificate that will cover your payment processing, too, Akurateco is your go-to provider.
One-click payments.
Simplified secure payments are the way to the heart (read "wallet") of your end customer. That is why ensuring a smooth transaction flow is crucial. And Akurateco's white-label system offers just that.
With tokenization in place, customers can easily pay with one click. And given word-class security certificates in place, customers' trust and, consequently, conversion rates will grow exponentially.
What to look for in a white-label software provider?
Basically, analyze your processing needs and choose a provider with all the features covering them. Above, we've covered the basic functionality of a universal white-label solution.
On top of that, make sure the software you opt for has an intuitive interface. Keeping track and monitoring a multichannel transaction flow can be challenging. Yet, with a user-friendly admin panel, the task gets much simpler. It's in your best interest to be able to easily manage data and set up access permissions.
The best white-label payments providers in 2021
Now that you understand what to look for in a white-label payment software provider, let's explore your best provider options in 2021.
Akurateco.

An Amsterdam-based software provider, Akurateco, aims to equip businesses across numerous industries with high-end payment technology.They've created a 100% secure payment system that can help you to:
–  consolidate all of your payment data in one place;
– increase a transaction approval ratio by 20%,
– save up to 50% on processing with our flexible fee structure.The company offers three different state-of-the-art products: a white-label payment gateway, Cashier (a SaaS payment platform), and a white-label payment gateway on-premise.With Akurateco, you will get instant access to more than 100 payment methods with a single integration. Thus, you can easily diversify your target geo, grow your market share, and sell to new industries.The company is offering a free Demo of the system to all its potential clients. During the demo, they explain the key features of the platform, identify what product best meets the needs of the business, and show the real benefits one can get from integrating the solution.Finally, this provider option is one of the most affordable ones on the market with a setup fee being 1500-5000 EUR depending on the product.
NMI.

Among other solutions available, NMI has really proven to be a reliable provider. The company is a giant in the payment industry. And they've used their years of experience to build a cutting-edge payment gateway that allows companies across different industries to gain full control over their transactions.Besides, this solution also aims to help businesses:
– make data-driven decision thanks to an advanced analytics module;
– diversify their client base by offering hundreds of payment methods available;
– ensure a secure and smooth checkout experience.However, with the company being one of the industry leaders, the price of their software is much higher than that of Akurateco. So, before committing, make sure to know exactly what this solution will cost you!
ACI Worldwide.
ACI Worldwide is another leader in the industry. They allow you to create a banking or a payments platform with zero development cost by reselling their software as your own.Among its biggest benefits are the speed of integration and the global approach to meet the needs of customers from all over the globe. ACI Worldwide also guarantees a wide range of payment methods and industry-specific solutions.Beware, though, that as a leader of the industry, the company's prices for both customer and corporate solutions are higher than those of smaller competitors with similar functionality.You might also like Best White-Label Payment Gateway Software in 2021
Conclusion
White-label payments are gaining momentum. They're beneficial for a variety of businesses and can help one skyrocket his revenue with top-of-the-class functionality.
If you're considering integrating a white-label payment system, we're offering a free demo of Akurateco's white-label payment software to show you around the platform and explain how its specific features can help you grow your business. Don't hesitate to request one today!