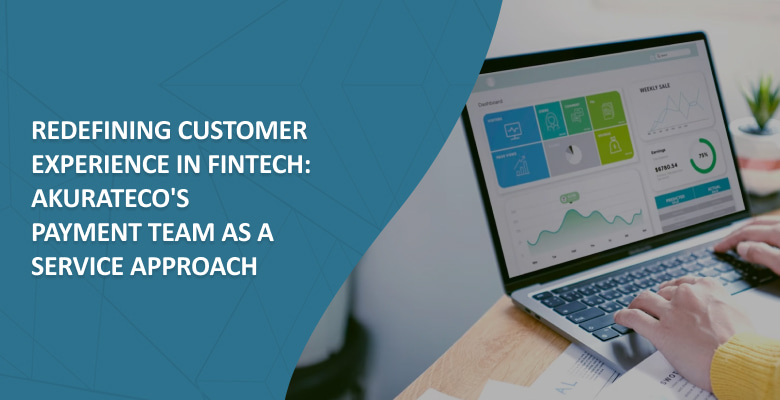 For the last couple of decades, FinTech startups have led the way in adopting the latest technologies in the payments industry. Indeed, we are working hard to optimize, speed up and automate every transaction processing step. But unfortunately, in pursuit of this, some FinTech companies tend to neglect the significance of human-powered services, forgetting that their clients are often not as tech-savvy as they imagine.
Customer service's primary goal is to familiarize people with modern financial technologies and the system they will use. Having more than 15 years of hands-on experience in the online payments industry, Akurateco experts have developed solid customer service that redefines the customer experience in FinTech.
In this article, we examine the importance of FinTech customer service and share our Payment Team as a Service approach, which covers the existing gaps in the market.
The enduring value of FinTech customer service
With the increasing popularity of FinTech payment solutions, users' knowledge often needs to catch up with rapid technological advancements. That is why human-powered customer service is critical in building customer loyalty and trust in today's digital age. Providing caring customer support is what sets a top-notch payment solution provider apart from its competitors and helps them create lasting relationships with customers. However, relying on the payment solution provider to help them navigate the system, clients often face the following challenges:
Clients are left to deal with the system on their own
Most FinTech Software-as-a-Service (SaaS) solutions work according to this principle: the client buys software, the vendor's team completes the configuration, and provides them access to the system. Afterward, the clients are left one-on-one with the system, and the only option for assistance is to submit a ticket to the service desk describing their issue. However, there is nuance here too.
Long wait for the response
After the client submits a ticket to the service desk, they may be waiting for assistance for quite a while. As a result, an issue that might have been fixed immediately could take days or weeks to resolve, causing time and money loss.
Overly lengthy documentation and manuals
Customers who do not want to wait forever for a response from technical support can search for the solution in the available documentation and manuals. If there is no other way, it is a viable alternative. However, it may take the client a long time and will require at least some experience to identify and resolve the issue themselves.
Complex technical communication
Startup payment service providers (PSP) often experience difficulties when communicating directly with technical support of their payment solution, as well as their merchants and payment connectors, as they struggle to understand their language, which is full of industry-specific terms.
Payment Team as a Service: Akurateco's approach
At Akurateco, we strive to make our software as convenient as possible for our customers. For this reason, our dedicated payment team offers the following services:
Full-fledged customer success manager
Akurateco's account managers act as in-house business consultants and technical support. They have expert knowledge of the system, which they explain to customers thoroughly and teach them to work with it step by step. In addition, if the customer feels that they need to return to certain aspects of working with the software later, they can always ask their account manager for more information. In cases when PSP employees require consultation on certain e-commerce processes, we assist and explain different aspects of the industry and technical procedures that are based on our employees' hands-on experience.
Additionally, we have a service desk for technical support. However, account managers can act as an intermediary between the customer and technical support if there is a need to translate complex things into simple terms and help the client deal with the issue from start to finish.
In-depth troubleshooting
Whenever there is an issue with payment processing that extends beyond our white-label payment gateway platform, we still explore all possible ways to help the client solve the problem. Although connectors' systems and their possible issues fall beyond the scope of our responsibility, we are ready to join the problem-solving process and communicate with them directly to identify and address the problem. With 15+ years of experience and expertise, we speak the same language with connectors. Due to this, we are able to rapidly identify the problem, troubleshoot it and collaborate with the connector's team to make proper adjustments for any technical issue. 
Dedicated tech team for our clients' merchants
In most cases, payment gateway providers refrain from communicating with their customers' merchants, unwilling to burden themselves with additional responsibility. Akurateco believes that to provide the highest quality service to our customers, we need to consider all areas of their business, most notably their merchants. Since some of our customers are PSP startups just beginning their online payments journey, they may lack technical specialists. That is why we can provide assistance to our customers' merchants, enabling them to perform technical integrations to our platform. Also, our account managers are ready to answer questions or assist merchants with solving issues related to our area of expertise. 
Ongoing human-powered communication
We don't just provide instructions and documentation for our customers, their merchants, and connectors. Instead, we dive deep into a detailed explanation so it is evident at every stage. In contrast, the online payments industry giants do not provide such services. It is one of the primary reasons our clients consider our services such high quality. From the experience they shared with us, many major players in the payments industry simply provided them with documentation and user manuals without further assistance. As a result, the clients found themselves alone dealing with documents they considered confusing. 
To provide a satisfactory customer experience, we sometimes go above the scope of work to help our clients. For example, whenever such an issue arises on the connector side when the client starts working with Akurateco, our account managers can assist them in reviewing these documents and involve technical support and business analysts for problem-solving if needed.
Extensive experience in the online payments industry
Our payment team has an extensive background in problem-solving when working with various banks and payment platforms, and their experience benefits our clients. For instance, our customers who work with banks on the Mastercard Payment Gateway Services (MPGS) platform often experience difficulties with banks' support and require timely consultation on the problem. Fortunately, the MPGS platform is well-known to Akurateko specialists. Considering all the nuances of working on it, such as substantial technical documentation, processing nuances, long logs, etc., we help our clients and their bank partners troubleshoot their issues much quicker than they would on their own. In addition, knowing our way around different systems, we can even resolve the issue directly through the bank's admin portal upon request and with client consent.
Customer-centric approach
We aim to build not just a formal B2B relationship with the client but a comfortable and warm environment for communication. Depending on the client's preferences for communication methods, we keep in touch using the messengers of their choice. In a sense, we become a part of their team because we are in ongoing communication, able to answer questions of any complexity and help solve problems. Akurateco's upper management also communicates with clients, including our COO, Alexandra Dolia. Our clients particularly value her industry knowledge. 
To wrap it up
The online payments industry continues to evolve, and the importance of human-powered FinTech customer support will only increase as customers seek personalized attention and expert guidance to navigate financial technology complexities. Akurateco's Payment Team as a Service approach, tested by multiple positive reviews, aims to create the most pleasant experience for our customers. Book a Free Demo of our system to get a first-hand experience of our Payment Team as a Service and Akurateco White-Label Payment Gateway.