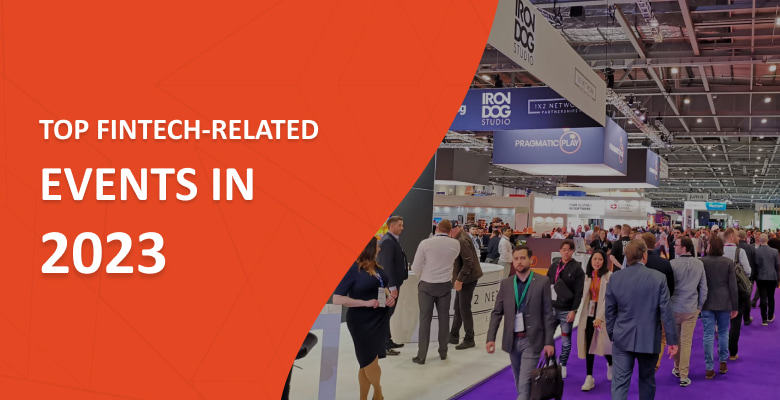 In order to thrive in any industry, networking, self-promotion, and industry comprehension are imperative – and the world of FinTech is certainly no exception. Conferences provide a dynamic platform to achieve all of these objectives and more. Attending conferences in FinTech is important for establishing a prominent presence in the industry. They offer keynote speeches by experts, exhibitions of your latest products, and formal and informal networking opportunities. So, if you're looking to elevate your profile and make waves in the FinTech space, attending industry conferences is an absolute must.
We have curated a list of 13 events that hold value for FinTech-related companies, some of which are exclusively FinTech-focused, while others provide a platform for potential clients to connect with FinTech providers. This list may be of particular interest to those looking to launch their own payment gateway or other payment solutions. As industry experts, Akurateco will be in attendance at some of them to showcase our cutting-edge solutions and provide valuable insights on payment orchestration. 
ICE London
Dates: 7/2/2023 – 9/2/23
Location: London, UK
ICE London is a highly significant event for the iGaming industry, attracting participants seeking to stay ahead of the curve and explore the latest trends and technologies in the field. This conference provides valuable insights into cutting-edge technologies like blockchain and virtual reality, and offers a unique opportunity for casino owners, iGaming regulators, gaming software manufacturers, payment providers, and other FinTech solutions companies to network and collaborate. 
High-risk merchants, such as those in iGaming, are always looking for ways to expand their payment options and we at Akurateco understand these unique challenges. That's why our company was present at the ICE London 2023 conference, connecting with strategic partners and showcasing our innovative payment processing solutions tailored for high-risk industries.
TES Portugal
Dates: 22/2/2023 – 25/2/2023
Location: Cascais, Portugal
TES Portugal is a 3-day networking event designed for entrepreneurs, affiliates, publishers, and media buyers from a diverse range of industries, including online entertainment, e-commerce, finance, iGaming, dating, health, nutraceuticals, and more. 
As a leading white-label payment gateway provider, Akurateco understands the importance of connecting with professionals from a variety of industries to offer tailored payment processing solutions. Akurateco attended TES Portugal in 2023, where we connected with potential partners and clients from a range of sectors and provided valuable insights into the latest trends and technologies in the field. 
Finovate Europe
Dates: 14/3/2023 – 15/3/2023
Location: London, UK
Global FinTech innovation is the main Finovate conferences' focus. With presentations from top startups and well-known businesses, Finnovate displays the most recent goods and services in the financial technology sector. Attending will be particularly beneficial for FinTech entrepreneurs, investors, and professionals who want to keep up with the latest innovations and trends. There is always a good chance to attend this global conference because they hold annual meetings in Europe, Asia, and three US cities.
 FinTech Meetup (Las Vegas)
Dates: 19/3/2023 – 22/03/2023
Location: Las Vegas, USA
Professionals in the FinTech field can network at FinTech Meetup, an event with more than 3000 attendees. 175+ speakers are taking part, from the biggest names in FinTech, and more than 200 sponsors and exhibitors are attending, showcasing the latest FinTech innovations and solutions.
Their organizers use ground-breaking event technology that makes it simple for participants to network, learn about new organizations, and seize amazing possibilities. This incredible technology has enabled over 30,000 meetings and connections, providing participants with definitive results. This aspect of the event will be especially beneficial for professionals looking to network and meet potential partners or investors in the FinTech sector.
Pay360 Conference
Dates: 21/3/2023 – 22/3/2023
Location: London, UK
The Pay360 Conference is the yearly gathering place for the payments sector, which brings together 2000 of the most senior officials from banks, governments, merchants, investors, FinTechs, FIs, card issuers, consultants, and solutions providers. The conference provides significant insights and networking opportunities, regardless of whether attendees are an established bank, an upstart FinTech, or somewhere in between. Additionally, it provides participants with the contacts they need to create strong alliances along the whole value chain.  
FinTech World Forum
Dates: 9/5/2023 – 10/5/2023
Location: London, UK
FinTech Global Forum is a prestigious gathering for experts in the financial technology sector. Businesspeople from all over the world come together at the event to talk about the newest developments in FinTech. Companies can reserve stands to showcase their own solutions. Executives, business owners, and investors in the fintech industry will benefit most from attending the fintech global forum. Professionals will have a wonderful opportunity to network with potential partners and investors, get knowledge from thought leaders, and discover fresh possibilities for growth and expansion in the FinTech industry at the conference.
Seamless Middle East
Dates: 23/5/2023 – 24/5/2023
Location: Dubai, UAE
The Seamless Middle East conference is dedicated to FinTech, e-commerce, and retail. Participants can explore new business opportunities, especially in the Middle East market, and learn about cutting-edge FinTech technologies and trends including blockchain and mobile payments. Entrepreneurs and executives in the finance, e-commerce, and retail sectors would benefit a lot from this conference, in addition to those part of, or interested in, the Middle East market. Seamless organizes events all over the world, including Saudi Arabia, which are similarly big events for the Middle East market with thousands of attendees.
Akurateco is visiting Seamless Middle East 2023 with a stand, so don't miss a chance and book a meeting in advance!
Money 20/20 Europe
Dates: 6/6/2023 – 8/6/2023 
Location: Amsterdam, Netherlands
Money 20/20 has events in Europe, the USA, and Asia, each worth a visit. FinTech, payments, and financial services executives come together at these global events. The conference includes keynote addresses, workshops, and displays related to different aspects of finance. This is of most interest to executives and entrepreneurs in FinTech and finance, and each event provides different opportunities for networking in different markets.
Book an appointment with our Sales Representative at Money 20/20 Europe!
IGB Amsterdam 
Dates: 11/7/2023 – 14/7/2023 
Location: Amsterdam, Netherlands
Almost 5,000 people attend IGB, an event for iGaming and affiliates. It is intended to give professionals the chance to network with peers, get knowledge from specialists, and investigate new business options as they take their iGaming companies to the next level. This conference is a great place for professionals to meet trustworthy affiliates with high-converting player traffic as well as learn about emerging categories like Esports, cryptocurrency, and NFTs.
Akurateco is going to IGB Amsterdam to offer a perfect payment orchestration solution to high-risk merchants, feel free to schedule a meeting with us!
 Sibos 
Dates: 18/9/2023 – 21/9/2023
Location: Toronto, Canada
Each year, the Sibos conference brings together professionals and thought leaders from the finance sector. The Sibos agenda is dominated by the most significant financial issues, such as risk management, ESG standardization, cross-border payments, and emerging technologies. Popular sessions in the schedule are Inside Leadership, Big Problem Debates, Industry Talks, and Swift Innotribe, along with several brand-new sessions. The Sibos conference is a great event to visit for executives, business owners, investors, and policymakers who work in the finance sector. 
Paris Retail Week 
Dates:19/9/2023 – 21/9/2023
Location: Paris, France
Paris Retail Week brings together those who work in the retail sector. The event features keynote addresses, workshops, and exhibitors. Participants can pick up insights from top industry figures while learning about new retail trends and innovations. Retail executives and business owners who want to keep current on market trends and developments in retail should not miss this.
In case you're interested in a top-notch payment gateway for your retail business, see Akurateco in Paris! Don't forget to book an appointment.
Sigma Malta
Date (TBC): 11/2023
Location: Malta
The international iGaming sector is the focus of the Sigma Malta conference. Participants can meet industry professionals, explore new business prospects, and hear about the newest trends and advances in online gaming. IGaming brands and regulators, and manufacturers of gaming software would all benefit greatly from attending this conference. Sigma also has similar international events in the UAE and the Philippines, but also regional events for the Balkans/CIS in Cyprus, Africa in Nairobi, and the Americas in São Paulo.  
This year Akurateco will be present at Sigma Malta to present high-risk merchants with our perfect payment solution, so don't miss out and schedule a meeting with our sales representative!
Singapore FinTech Festival
Dates: 15/11/2023 – 17/11/2023
Location: Singapore
SFF brings together the world's FinTech community. Visitors can learn about topics relevant to the growth of financial services, public policy, payments, and technology. It is set up by the Monetary Authority of Singapore to foster an open dialogue between the public and private sectors to advance FinTech in the digital economy. Being one of the largest FinTech festivals worldwide, last year it attracted over 60 thousand attendees from more than 100 countries. Anyone in FinTech, tech, or just interested in the Asian markets, should consider attending SFF. 
____
To be competitive in the FinTech sector, it's essential to keep up with the most recent trends, technology, and regulations. Attending fintech conferences can be a great method to learn new information, connect with business luminaries, and keep on top of trends.
Whether you are an experienced professional or a FinTech enthusiast, going to a conference in 2023 might be the best career investment you ever make. Learn the most recent developments, meet with like-minded people, mark your calendars, and don't forget to schedule a meeting with the Akurateco team!