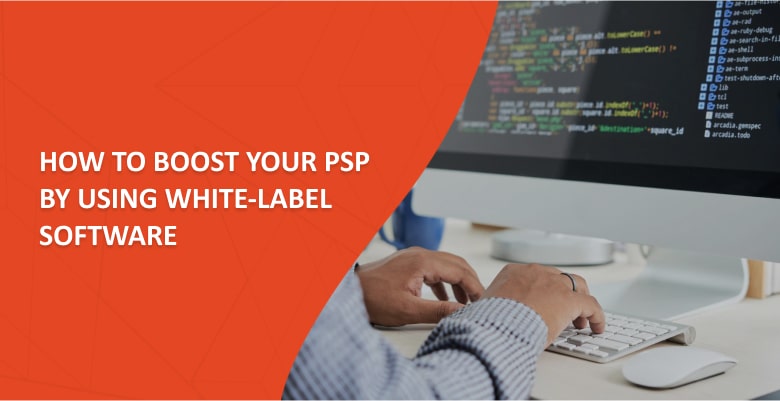 One of the most common problems with PSP businesses is that despite all the efforts and financial expenditure, they cannot achieve the desired conversion. Most of the time, small business owners lack the technology that the payment giants possess. However, this can easily be changed with minimal investment and no development needed. The easiest way to increase your PSP's performance is to use white-label software. But, first things first: we need to define some basic terms.
What is White-Label Payment Software?
White-label software is software that a company purchases from a service provider and brands as its own. Its main advantage is that it does not require you to invest resources in development or maintenance: you can simply buy a ready-to-use product, put your label on it, and start working within a couple of weeks.
The majority of white-label software is delivered through Software-as-a-Service (SaaS) model. By purchasing white-label SaaS, the client is provided with a combination of software and support services. There are, however, other options. For instance, in addition to SaaS, Akurateco also offers an option of On-Premises setup or Source Code purchase.
White-Label Software: What are the benefits?
All things considered, building your PSP on the basis of white-label software from the very start makes good sense. But what if you already run a PSP? Is it even worth the effort to switch to white-label software instead of your time-tested, but flawed payment infrastructure?
Totally! There are three main reasons for that. First of all, it is time-saving. PSP owners put lots of time into software maintenance. Even if the system is functioning in the normal mode at the moment, bugs will inevitably occur over time. Furthermore, PSP is not an engine eternal. Keeping it relevant will require continuous development. With white-label software, all the maintenance falls to the payment software provider. The provider also takes care of all the system's bugs and constantly updates the software while you can focus all your efforts on business development.
Secondly, it is free of risk. The software that is running under a white label has been developed by experts and tested over time, or it wouldn't be used by businesses. To make sure the software is reliable, look for its users. Also, one of the easiest ways to determine whether the software suits your needs is to book a free demo and take a look at it for yourself.
Last but not least, it is cost-effective. Calculate all the expenses involved in the development of the PSP and the team of developers, and it becomes clear that quite a bit of your budget is required. But, using white-label software, you can save on maintenance and the team, mainly because it requires fewer resources and skills. In addition, white-label software developed by the professional team is fast, seamless, and secure, contributing to the conversion rate increase as a result of a pleasant customer experience.
The main challenges of running a PSP
To fully appreciate the benefits of white-label software, let's examine the main challenges that PSP owners face:
PSP is a forward-looking business that needs constant development and expansion to stay relevant. An effective PSP is one that can offer a variety of payment methods and currencies to its clients. To accomplish this, PSP needs multiple resources as well as an understanding of consumer payment preferences in each country.
Keeping security standards up-to-date
It is mandatory for PSPs to comply with PCI Data Security Standards. PSP business owners know better than anyone that it is quite challenging to gain compliance in the first place. However, PCI DSS compliance needs to be constantly updated in line with evolving security standards. 
Providing secure processing of transactions is not just about complying with mandatory PCI DSS standards. To combat fraud and prevent chargebacks, PSPs must use first-class anti-fraud tools that include intelligent analytics, data collection, risk assessment, and machine learning.
As the PSP market is full of offers these days, simply transferring funds from one account to another is not enough in order to run a successful PSP. As a rule, merchants are oriented toward complete payment solutions that combine a secure payment gateway, integrated and brandable payment forms, packed with advanced analytics capabilities, risk management, and anti-fraud tools, as well as robust reporting features.
The good news is that all of that can be handled by a team of professionals while improving the conversion of your PSP and reducing the processing cost. Finally, we come to the most exciting part.
How White-Label Software can boost your PSP
Once you know the basics of white-label software and its main benefits, let's examine how it can boost your PSP. The first thing we need to do is determine whether you need white-label software. 
You don't need to switch if you have plenty of time and resources to manage PSP, are satisfied with the number of payment methods and connectors, and have the capacity for constant development. But, if you would like to boost the conversion rate, save on transaction fees, and delegate the PSP maintenance to professionals, white-label software is the right choice for you. 
Here are the ways white-label software can enhance your PSP:
Optimizes payment processing
The thing is, white-label software already has multiple efficient features which would cost you dearly and take a lot of time to develop on your own. Smart routing prevents transactions from being declined by routing them to the channels most likely to approve them. Cascading instantly distributes those transactions that were already declined and gives them a second chance for approval within the same payment attempt. As a result, a transaction that might have been declined becomes approved. There is also a smart invoicing and payment calendar to help you easily manage all of your ongoing invoices and so much more. 
Adds to the development capacities
When you switch to white-label software as an up-and-running payment service provider, you have already partnered with some payment connectors and have the merchants you work with. White-label software will allow you to add payment connectors and payment methods at your request without involving you in the development process. Also, you will be able to add and manage your existing customers' data using efficient tools and a user-friendly interface. Moreover, new clients' onboarding can be simplified with the merchant self-onboarding functionality that Akurateco offers.
Automates manual processes
For PSPs who work with numerous payment providers, it is common to manually handle data, transaction management, reconciliations, chargebacks, and so on. White-label software has the tools for automating these processes. Moreover, Akurateco also has advanced analytics that track, interpret, and report data. In addition to saving time and money, automation allows you to monitor all the main processes. 
Over to you
The features of white-label software are capable of boosting your PSP and increasing your conversion rate by up to 30%. With leading fintech experts in our team who have over 15 years of experience in the payment industry, Akurateco is among the top options on the market. Feel free to book a free demo and explore the system for yourself. Let's check it out!