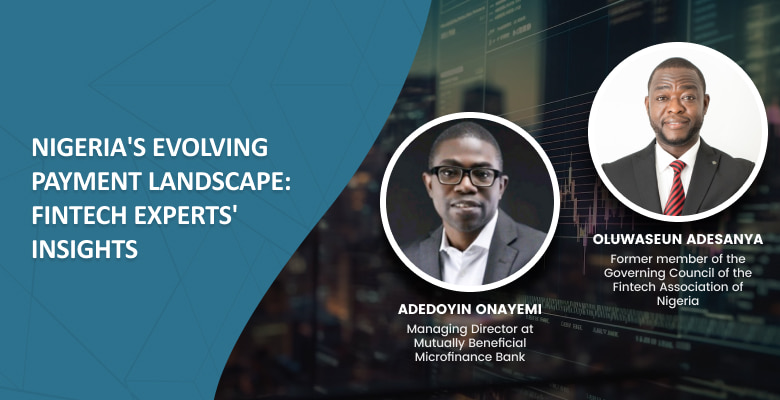 In the ever-evolving world of fintech and payments, gaining insights from seasoned professionals is paramount. At Akurateco, we had the privilege of engaging with two distinguished experts, each bringing a wealth of experience and expertise to the table.
Meet Oluwaseun Adesanya: An Innovation Visionary
Oluwaseun Adesanya is a visionary and dynamic leader with a remarkable track record and portfolio spanning digital transformation, innovation, business development, business process reengineering, performance management, international business, and corporate strategy. With a career that has touched 33 countries across Africa, North America, Asia, and Europe, Mr. Adesanya possesses extensive international exposure. His contributions have been instrumental in driving new initiatives, expanding international businesses through acquisitions and strategic partnerships, and achieving significant milestones, including impressive revenue growth and a cumulative business valuation of over US$450 million. His role as a former member of the Governing Council of the Fintech Association of Nigeria underscores his commitment to the fintech industry's advancement.
Of particular note, Mr. Adesanya previously served as the Group Head of Corporate Strategy and Innovation at SystemSpecs (owner of Remita), where his leadership played a pivotal role in managing a substantial portion of all transactions, collections, and payments for the Federal Government of Nigeria, states and corporate organsations. He was also instrumental to the tranforming of the organsation into a global brand and a stronger key driver in the payment industry in Nigeria.
Introducing Adedoyin Onayemi: A Fintech Luminary
Adedoyin Onayemi, a seasoned fintech executive with over 15 years of experience, stands as a trailblazer in the industry. He has played a pivotal role in leading start-ups and driving the growth of retail, consumer, SME businesses, and fintech companies in sub-Saharan markets.
Currently, Adedoyin serves as the Managing Director at Mutually Beneficial Microfinance Bank.
Previously, he served as Country Director of Money in Minutes Nigeria Limited, a UK-originated fintech start-up, overseeing critical aspects of the business's operations, focusing on achieving forecasted financial objectives.
Prior to this, he held the position of Senior Vice President and Head of Credit Risk at Kuda Bank, where he significantly expanded the credit product portfolio. He also co-founded Aella Credit, a digital lending company, showcasing his entrepreneurial spirit.
____________________________________________________________________________
In the pages that follow, these two distinguished experts offer profound insights into Nigeria's dynamic payment landscape, illuminating the opportunities, challenges, and emerging trends that shape this vibrant sector.
Market Overview: Leading PSPs and Acquiring Banks
When asked to identify the top payment service providers setting trends in Nigeria, both experts unanimously mentioned Remita, Flutterwave, Interswitch, and Paystack (now part of Stripe). These companies have played pivotal roles in shaping the payment landscape, consistently introducing innovative solutions that have attracted substantial investments from local and international entities.
In terms of popular acquiring banks for businesses in Nigeria, Adedoyin Onayemi expanded on this, citing Access Bank, First Bank of Nigeria, United Bank for Africa (UBA), and Guaranty Trust Bank (GTBank) as highly favored choices among enterprises.
Challenges Encountered When Selecting Payment Providers
Selecting the right payment provider in Nigeria is indeed a complex undertaking for businesses. Oluwaseun Adesanya shed light on the challenges businesses often face:
"Innovation leads to regulations, not the other way around":

The rapid rate of innovation frequently outpaces regulatory frameworks, leading to uncertainty as businesses navigate this swiftly changing landscape.

Connectivity Issues:

Ensuring seamless and reliable connectivity between banks and payment providers remains a significant challenge. Interruptions in these connections can result in transaction delays and disruptions.

Safety Concerns:

Safeguarding the security of transactions and sensitive financial data stands as a paramount concern. Nigeria, like many other regions, contends with local fraud and cybersecurity threats that necessitate robust security measures.

Lack of Customer Engagement:

Effective customer engagement and responsive support mechanisms are indispensable for any payment provider. Some providers may fall short in this regard, leaving businesses in need of timely and satisfactory customer support.

High Transaction Costs:

Transaction costs can be relatively high in Nigeria, posing a considerable burden for both businesses and customers. Exorbitant fees levied on customers might deter the adoption of specific payment methods, adversely affecting businesses and their clientele.
Both experts emphasized the importance of businesses conducting meticulous assessments of potential payment providers. Key considerations should encompass security measures, customer support responsiveness, and transparent fee structures.
Government Influence and Opportunities for Fintech Companies
In addressing government influence, Adedoyin Onayemi noted that, in contrast to numerous African nations, launching a fintech or payment business in Nigeria is relatively straightforward and expeditious. Nigeria's sprawling market size coupled with strong governmental support renders it an enticing hub for fintech ventures. However, it's crucial to delve deeper into the landscape to uncover a subtle yet significant truth.
While the Nigerian PSP arena has witnessed an influx of new entrants, not all have mastered the intricacies of operating in this dynamic space. Many, drawn by the allure of this burgeoning market, have embarked on this journey without a comprehensive understanding of the nuanced challenges. For some, the initial excitement of entry gives way to the stark realities of competition.
Navigating the landscape requires more than just obtaining a license. It demands a profound grasp of market trends, fraud prevention strategies, customer support excellence, and the intricacies of negotiating lower fees for both businesses and consumers. Those who succeed recognize that competitiveness hinges not only on innovation but also on the ability to deliver secure, cost-effective, and reliable solutions.
In this context, Adedoyin Onayemi's observation takes on added significance. While the Nigerian market offers a plethora of opportunities, it's essential for companies to recognize that sustainable success goes hand in hand with a deep commitment to understanding and mastering the nuances of this dynamic environment.
Oluwaseun Adesanya spotlighted Nigeria's distinctive payment landscape, driven by government-led initiatives promoting a cashless economy, a spectrum of diverse payment channels (comprising USSD, mobile, internet, and POS), a fervent push for financial inclusion, and the surging adoption of mobile phones and internet services. The remittances from Nigerians in the diaspora add a unique layer, fostering opportunities for cross-border payments. 
Recent Trends and the Influence of the COVID-19 Pandemic
The ascendancy of mobile payments has brought substantial transformations in traditional banking within Nigeria. Adedoyin Onayemi observed that the COVID-19 pandemic played a pivotal role in expediting the adoption of digital channels, including mobile banking and internet banking. Customers increasingly relied on these digital platforms for their transactions and banking services, ushering in a significant shift in consumer behavior.
In response to questions about cryptocurrencies and blockchain technologies, there was an acknowledgment of their rising prominence in the Nigerian payment landscape, despite the regulatory hurdles and trust-related issues they encounter. The potential benefits of these technologies, particularly for cross-border payments and the quest for financial inclusion, remain palpable. 
Moreover, it's noteworthy that recent developments in Nigeria include the introduction of e-Naira, a central bank digital currency, as a regulated addition to the digital currency landscape. This introduction has coincided with government measures aimed at encouraging the use of "e-Naira" while discouraging the use of other cryptocurrencies, such as those available on platforms like Binance. This approach has sparked discussions, as it has led to both opportunities and challenges in the country's digital payment ecosystem. Notably, the introduction of "e-Naira" has also had an impact on the fiat Naira, as its value has experienced fluctuations since its launch.
Community and Networking Opportunities
Nigeria fosters a vibrant payment community that frequently assembles at notable events such as the annual Fintech Week. Additionally, webinars, seminars, and conferences organized by the Fintech Association of Nigeria provide fertile ground for networking and knowledge sharing among industry stakeholders.
Thought Leaders and Future Projections
Both experts imparted valuable recommendations for businesses aiming to penetrate the Nigerian payment market. They stressed the paramount significance of grasping local regulations, cultivating trust with consumers, and proffering dependable, cost-effective solutions. Remaining apprised of burgeoning trends, forging strategic partnerships, and collaborating with local fintech luminaries emerged as recurring themes.
Final Thoughts from Akurateco
As we conclude this insightful journey into Nigeria's payment landscape, it's clear that the nation holds immense potential for growth and innovation. The invaluable perspectives shared by our two distinguished fintech experts, Oluwaseun Adesanya and Adedoyin Onayemi, have shed light on the dynamics and opportunities in this burgeoning sector.
In the context of the challenges and trends outlined in the first part of this article, it's crucial to highlight how advanced software solutions are pivotal in addressing these issues and aligning with market needs. Akurateco's cutting-edge payment orchestration and white-label payment gateway stand as a solution tailor-made for the complexities of the Nigerian payment landscape.
If you're interested in delving deeper into the nuances of positioning within Africa's market, McKinsey provides a comprehensive study on the subject: McKinsey Study.
So, as we reflect on the insights shared by our experts, we invite you to embark on this exciting journey with Akurateco, where innovation meets reliability, and the future of payments is built today.
Would you like to explore Akurateco's cutting-edge payment solution tailored to the Nigerian market?
Book a Free Demo with Akurateco's payment experts to see it in action and get all your questions answered.
Request a Demo