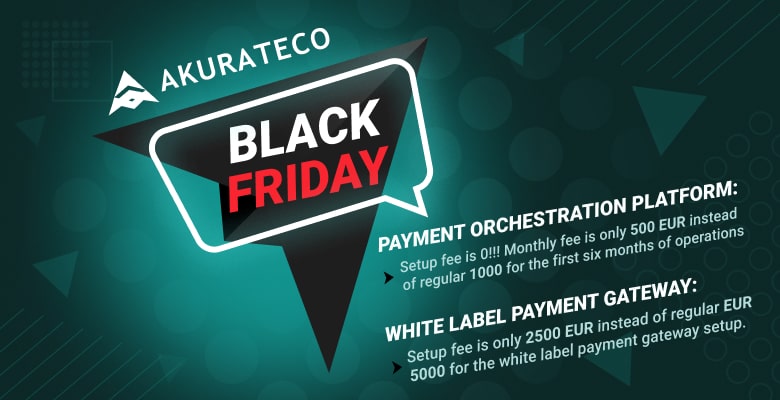 And just like that – Black Friday is that just around the corner!
Joining the trend, between November 15 and December 15, Akurateco is offering grand discounts on its two payment products:
Payments orchestration platform

used to optimize payment processes for online merchants around the globe. (aka payment team&platform-as-a-service)

White label payment gateway

enabling companies to launch their own PSPs in under two weeks with zero development costs. 
If you were looking to augment your payment team and leave the payment processes to real professionals, today is the day: we're here to announce a 50% discount on Akurateco services for a limited time only.
How to get the discount:
Register with Akurateco;

Sign the contract and pay the first invoice between November 15 and December 15…
– and voila, you'll enjoy an unheard-of 50% off the setup fee. 
The moment of truth: What you'll pay
Payment orchestration platform:
Setup fee is 0!!! Monthly fee is only 500 EUR instead of regular 1000 EUR for the first six months of operations.
White label payment gateway:
Setup fee is only 2500 EUR instead of regular EUR 5000 for the white label payment gateway setup.
What you'll get 
Akurateco is a white-label payment technology vendor catering to business owners willing to start their own PSPs as well as online merchants looking for payment processes optimization. The technology offers a variety of cutting-edge features including but not limited to:
– smart routing to increase transaction approval ratio by 30%;
– cascading to distribute declined transaction + decline reason management for improved analytics and better decision-making;
– tokenization to simplify and implement one-click payments;
– smart invoicing to fully automate and eliminate the human factors in invoice issuing.
Once installed, Akurateco will act as your company's payment team – always ready to fine-tune the solution and help you resolve the issues along the way. With 15+ years of experience in the payment industry, we're ready to bring your business to a brand-new level of excellence.
It's safe. It's fast. It's top-of-the-industry. Sign up and let's do business together