December.29.2020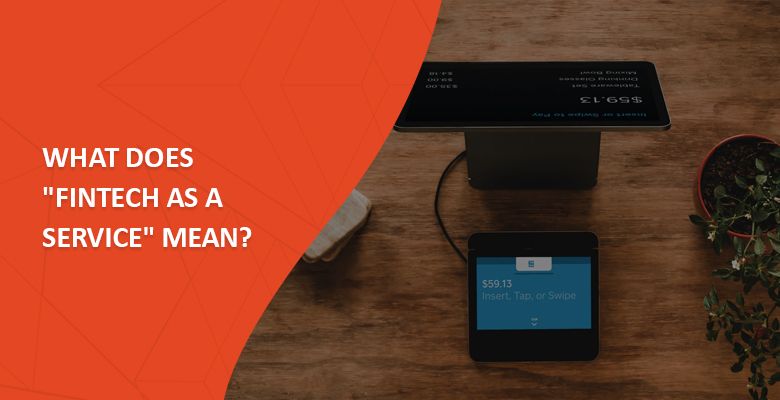 Half of the consumers use digital-only banking services to pay for goods and services. With that being said, it's no longer surprising that 24 Fintech companies got a "unicorn" status. Even more got it in 2020 despite the pandemic. Thus, with the growing popularity of the industry, it's high we explained what "Fintech as a Service" truly means.
But first things first. What on earth is Fintech in its broader meaning?
What's Fintech?
Fintech stands for "Financial Technology". And basically, it's a piece of software that aims to automate and improve the experience of customers using financial services as well as to make the management of financial operations easier for business owners.
The term came into being some ten years ago but has long established its popularity trend. And even though, it sounds like something only technology geeks and banking institutions deal with and understand, consumers interact with it more often than they realize. Thus, for instance, tokenization, one-click payments, crypto currencies, and any sort of online shopping are all part of a big "Fintech services" family. 
Now you understand what Fintech is. So, it's time to explore the "Fintech as a Service" term. You've probably heard about it but didn't understand what it means. So, we're here to make things clear for you.
You might also like What's a SaaS Payment Platform?
What does "Fintech as a Service" mean?
"Fintech as a Service" means offering financial technology as a service. An example of this is a Cashier platform by Akurateco which allows merchants from different business niches to get access to multiple payment solutions with just one integration. They offer access to this platform as a service. And in this case, the technology vendor delivering this service is in 100% responsible for the platform's development, maintenance, upgrades, compliance with the security standards, etc.
The benefits of a "Fintech as a Service" platform
No maintenance fees.

None. Whatsoever. Since you receive access to the platform as a service, the burden of keeping the platform up-to-date is 100% on the technology vendor. It's their responsibility to ensure smooth and fast processing, uninterrupted payment flow, and easy access to all the transaction data for enhanced analytics. And it is your right to demand that should at least one of these points be missing.

Faster time-to-market.

It goes without saying that using a third-party payment platform allows you to set up the payment flow and roll your product out to the market faster than if you decided to develop the whole system from scratch. Thus, for instance, with Akurateco you'll be able to accept your payments within two weeks after application. We did our best to set up smooth and fast onboarding – and pride ourselves on the results we have now.

Processing costs reduced by 50%.

You heard it right. And here's how it works. The Fintech as a Service platform allows the merchants to route their transactions via multiple payment service providers. This means that merchants can shop around and choose providers that offer the most beneficial conditions. As a result, one can enjoy lower rates by choosing different providers for every specific transaction. Automatically, you and your customers benefit from reduced processing costs.

Fraud and chargeback prevention.

Should you decide to develop your own payment gateway, remember that it's not only about establishing business relations with banks and so many payment providers we can't even count. It's also about protecting both your and your customers' funds from fraudsters. And that is a huge chunk of work and tons of red tape. For this reason, a lot of merchants prefer Fintech as a Service platforms already compliant with the highest security standards like PCI DSS. If you've ever tried applying for it, you know what we mean. Brushing up your site, ensuring full compliance with endless demands, adjusting every single page to the recommendations are just the tip of the iceberg. That is why we consider fraud and chargeback prevention offered by third-party payment platforms a giant advantage.

Simple customization.

These platforms tend to be easily customizable. Since they are developed and maintained by professionals who, most likely, have spent years in the payment industry, they know what merchants need. Both on average and in specific industries. So, your platform will most likely fit your needs well. But in case you need adjustments, you can easily do it yourself. No customer support or technical assistance required. This includes setting up routing rules, payment calendar, and cascading.

Fully-brandable design.


Akurateco Cashier, which we've talked about previously, is not only easily customizable but also fully-brandable. This means that you can change the styling of the platform and fine-tune it to the corporate style of your company. Color, logos – you name it! This way, you can use a third-party solution with all its benefits – and your customers won't have a clue that the system is powered by an external provider. Such an approach strengthens your image as a cutting-edge technology provider and exponentially grows customers' loyalty.
We've probably established what Fintech as a Service means and what the benefits of Fintech-as-a-Service platforms are. Now, let's look into the trends we'd better be expecting for these services.
You might also like Best payment processing software for online business
Fintech-as-a-Service trends to expect in 2021
Alternative payments rise.

According to recent studies by Cornerstone Advisors, small and medium businesses offer their customers at least 11 payment methods. These, most likely, don't include giants like Stripe or PayPal. Therefore, payment platforms should adjust to this trend accordingly and expand their payment method base with alternatives.

Faster integrations with banks.

It might sound surprising but it is true: even though a lot of Fintech companies want to partner with a variety of banks to be able to accept and process transactions, only a bunch of banks were actually able to do it. However, with the industry gaining its momentum and growing its market share by leaps and bounds, regulations have become more favorable for these business relations. Therefore, integrations for banks and fintechs is going to see some improvements.

Simplicity and interaction.

Simplicity, personalization, interaction. These are the customers' expectations when it comes to online payments. And these will be the main focus for all Fintechs out there in 2021. It's all started in 2018, a year that was called "The year of Customer Experience". And it's still one of the priorities for financial technology providers. 
Conclusion
Fintech as a Service is the new black. And for a good reason: it is faster, much more agile than in-house payment platforms. Thus, it's a no-brainer: FinTech is here to stay, grow, and disrupt the way people pay. The competition in the niche is fierce. Plus, the demand is high. And all thanks to the numerous perks the Fintech-as-a-Service platforms have to offer. 
If you're looking for a payment platform, Akurateco is your top choice. It is fully-brandable and easily customizable. It offers instant access to 70+ payment methods and banks with single system integration. Besides, the platform comes with dedicated customer support to make sure. To get the taste and get a close look at the platform, you can request a free Demo. We'll walk you through the system and gladly answer your questions should you have any!