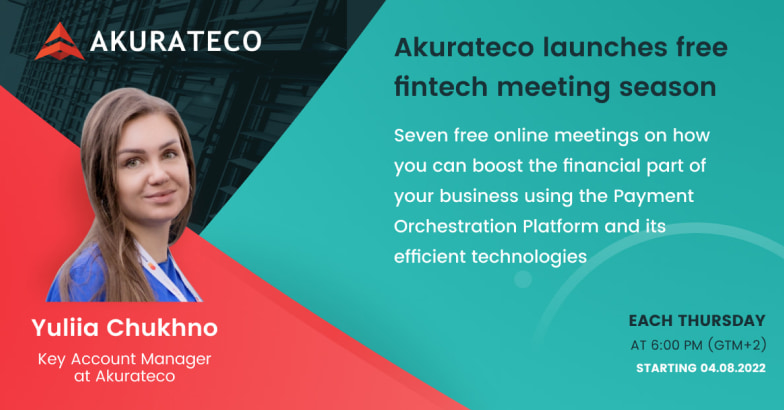 Akurateco launches free fintech meeting season, where we will describe the main payment technologies that can boost the financial part of your business. At the meetings, our Key Account Manager Yuliia will demonstrate how to use the Payment Orchestration Platform and its unique features most effectively, and answer all your questions.
The meetings proceed as follows:
04.08 How to aggregate all your payment connectors in one dashboard using a payment orchestration platform;
11.08 How to increase approval rate up to 30% using payment routing technology;
18.08 How to Prevent transaction declines with cascading and smart decline transactions;
25.08 How to improve your conversion rate up to 20% and users' experience by using custom payment pages and invoicing/pay by link technology;
01.09 How to protect your business with fraud protection software;
08.09 How to use billing technology to wisely calculate your fees, profits, and settlements;
15.09 How to use merchant onboarding to simplify and automate the processes for you.
Feel free to choose the topic you are interested in and register for the appropriate date. You are welcome to join all meetings online or get the recordings afterward.
See you there!